Hurricane Ravaged Region Rebuilds and Reinvents Itself
A year later, recovery work remains in its early stages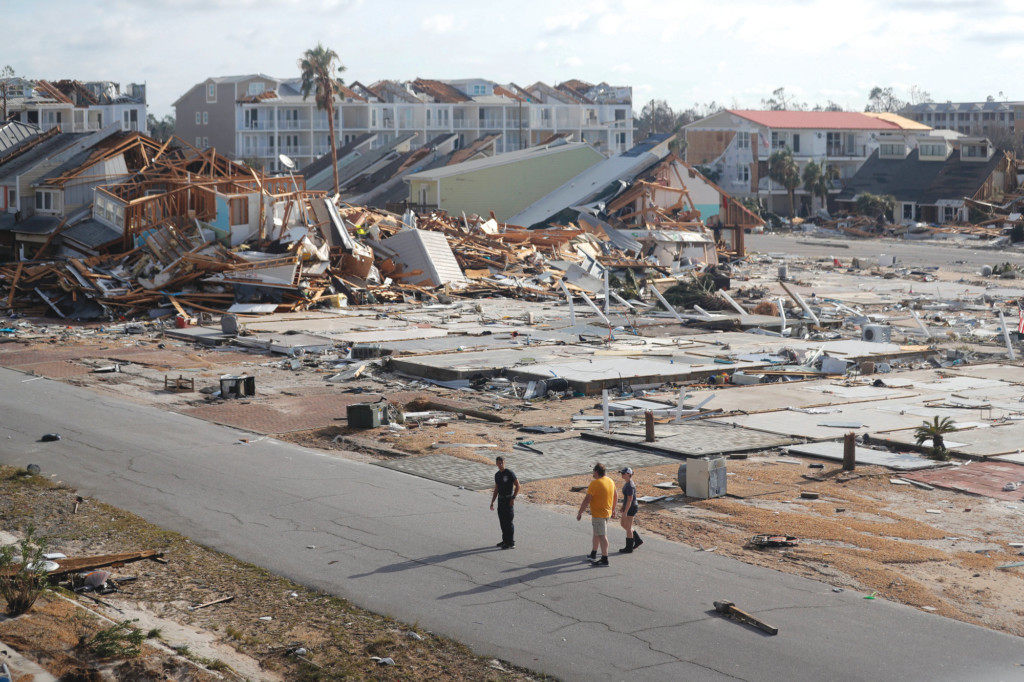 One year after Hurricane Michael stormed Northwest Florida, Pam Kidwell and her husband, Greg, continue to live out of the dining room in their Lynn Haven home.
The house, heavily damaged by the Category 5 event, was fully insured with replacement-cost coverage. Fifteen days after the storm, the Kidwells had retained a general contractor who was prepared to see to the rebuilding of their residence. But, over the months since, the contractor has been unable to retain employees.
"We've had five different teams on the house, but they take off when a better opportunity, like the rebuilding at Tyndall Air Force Base, comes along," Kidwell said. "But I ask myself, 'If I am sitting here with the ability to repair my home, and I'm still struggling, what must things be like for people who lacked insurance?' I mean, we were well prepared."
Such was the nature of Michael. It was so big that it exceeded preparations.
For days after the storm, the Kidwells joined many others in hanging out at what became an ad hoc community center, Reese Harrison's dental practice in Lynn Haven. Harrison, whose business was unroofed by Michael, and his wife, Mara, had moved quickly to mobilize chainsaw brigades, convert the business's parking lot to a meal distribution site and establish HOPE Panhandle, a nonprofit organization dedicated to hurricane recovery.
"Greg and I had quite a few meals in that parking lot," Kidwell said. In Greg's case, he was taking nourishment in the course of long days working to restore Lynn Haven's utility systems. He is the city's utilities director.
Over time, HOPE Panhandle's focus evolved; it is now on rebuilding homes. In that effort, it has joined with SBP — at one time the St. Bernard's Project — a nonprofit founded in 2006 in New Orleans by Zack Rosenberg and Liz McCartney. The pair left Washington, D.C., and traveled to Louisiana to help out following Hurricane Katrina. There, they were devastated to find that many people were abandoning their hometown.
They fostered rebuilding activity in St. Bernard's Parish and never stopped. Today, SBP is equipped to respond to natural disasters throughout the United States and Puerto Rico with rebuilding and other types of assistance. And Pam Kidwell has become its operations manager.
Today, on the one-year anniversary of the Big Blow, HOPE Panhandle and SBP are combining, beginning at noon, to conduct 24-hour construction builds at two Panama City homes that were battered by the storm and later stripped to the studs.
The houses are among nine that the organizations have worked to put back together again. Corporate sponsors CITGO and Farmer's Insurance have funded the rebuilding of the two residences that figure in today's event. SBP volunteers and AmeriCorps members, in photo above, arrived at one of those houses.
"We plan to keep rebuilding until we are no longer needed," Kidwell said. "But we desperately need donations and volunteers." Anyone interested in heeding the call may contact Kidwell at pkidwell@sbpusa; (850) 814-4533.
In Tallahassee, BowStern Marketing Communications has marked the storm anniversary by launching a campaign, One North Florida 365, that encourages people to benefit communities and residents in the Michael impact zone by making financial contributions, patronizing businesses there or committing to completing a project related to recovery.
"I was hearing from businesses and civic organizations and individuals who are aware that recovery is far from complete and they wanted to help out, but they just didn't know how to go about it," said BowStern president Tom Derzypolski. "We wanted to make it easy for people to act on that desire."
Derzypolski said that one of the best ways that people can show support for the region is to make a financial contribution that goes directly into the affected area. At the One North Florida 365 website, OneNorthFlorida.org, visitors may donate to the Community Foundation of North Florida, which supports recovery efforts throughout the impact zone, or the Never Forgotten Coast campaign, which provides micro-grants to small businesses in Mexico Beach, which was substantially demolished by Michael.
Derzypolski is sensitive, too, to people who want to lend a hand to impact zone residents.
One North Florida 365 has aligned with Mission 850, a nonprofit organization that is coordinating volunteer efforts and has compiled more than 400 job requests in a database. Visitors to OneNorthFlorida.org who complete a form expressing interest on the part of three or more people in completing a job will be contacted by a Mission 850 recovery specialist.
"Mission 850 has traveled the region, and they know that Baptist preacher from the little white church on the dirt road who has told them that Mrs. Johnson needs her porch rebuilt because a tree fell on it," Derzypolski said.
In fairly short order, Derzypolski hopes to attract $365,000 in donations and 365 commitments to taking on a job on the Mission 850 list. Meanwhile, he is asking that weekend travelers and vacationers headed from Tallahassee to Panama City Beach, the communities of 30A or Destin, make it a point to stop in Blountstown or Bristol or Marianna along the way and spend a little time and money there.
"When people in small communities see people they don't know taking an interest in where they live, it instills hope," Derzypolski said. "A year after the storm, people still need that."
Another Tallahassee agency, Sachs Media Group, has spearheaded an initiative, Rebuild 850, which is designed to raise funds for hurricane recovery while working to ensure that residents of other areas of the state do not lose sight of Michael's impacts on Northwest Florida — no easy task.
A poll conducted by the National Hurricane Survival Initiative on behalf of Rebuild 850 in June found that only 57% of Floridians were aware that extensive damage remained in areas hard hit by Michael. Fewer than half of Floridians surveyed knew that Michael was a Category 5 storm.
"Unless you are there every day to see the continuing effects of the hurricane, it is easy to assume that the region has recovered more than it has," said Sachs Media president Michelle Ubben.
"There are opportunities for the 850 region to reinvent itself, come back stronger than ever and become even more of an economic contributor to the state," Ubben said. "Florida has a huge stake in the matter. The Panhandle is one of the prominent gateways to Florida and it has a lot of important assets including Tyndall Air Force Base. But we need all of the stakeholders to approach this with vision and a sense of urgency."
Three of the four planks in the Rebuild 850 effort, established 11 months ago, parallel those of the newly created One North Florida 365. That is, Rebuild 850 called upon people to donate, volunteer and visit. Its fourth call to action — invest — is going to become increasingly important, Ubben said.
"We need developers and other business interests to see this as a unique time to come into the region and be helpful to people and to take the region into the future," Ubben said. "There are ways to connect the dots and put the pieces together. It's just going to take a lot of coordination."
Visitors to Rebuild850.org will find there an opportunity to donate to the Florida Disaster Fund, the state's official private fund established to assist Florida's communities as they respond to and recover during times of emergency or disaster.
To date, Rebuild 850 has attracted more than $500,000 in donations to the fund.
Ubben was among 10 women who were presented with a Pinnacle Award by Rowland Publishing and 850 Magazine in August. The annual awards recognize women who have distinguished themselves professionally and as public servants.
Collectively, Pinnacle winners past and present have resolved to try to speed hurricane recovery in Northwest Florida by calling upon the governor to appoint a "czar" charged exclusively with focusing on that issue. A draft of a letter to the governor is in circulation among the women as of this writing.
The Tallahassee creative team of Alex and Chelsea Workman, with some help from their friends, launched the Never Forgotten Coast project in the wake of Hurricane Michael. The website NeverForgottenCoast.com includes the stories of business owners in Mexico Beach who were returned to square one or nearly so by the storm.
Via a funding appeal on the site and the sale of Never Forgotten Coast T-shirts, the Workmans have generated more than $40,000 in contributions. That money has been awarded to Mexico Beach businesses to help them reopen their doors.
"Mexico Beach is 30 percent restored, but 80 percent of Floridians outside the region believe recovery is complete," Alex Workman said. "We use the Never Forgotten Coast platform to promote awareness of the work that remains to be done."
Recently, Workman photographed some 200 people in their Never Forgotten Coast T-shirts and encouraged them to use the images as their social media profile pictures.
Charter boat captain Kevin Lanier received a Never Forgotten Coast micro-grant. He moved his charter operation to Mexico Beach from the Pacific Northwest, where he was used to big water, and thought that the Gulf of Mexico would be relatively tranquil.
Michael was forecast to make landfall as a Category 3 storm when Lanier decided to move his very heavy vessel to a Panama City boatyard where lifts and a crane were used to pull it from the water. He and his wife Cyndi evacuated to Atlanta.
When they returned to Mexico Beach, their home was livable, but the city's canal, where Lanier kept his boat, was full of sand and debris. He returned his boat to Mexico Beach nearly six months later on April 1, the day the canal was reopened.
"My business this summer was off 50 percent from the previous year," Lanier said. "There just weren't very many places for people to stay in Mexico Beach."
But Lanier plans to persevere. In fact, he is replacing his relative tugboat of a vessel with one that is lighter, faster and fits on a trailer.
Lanier said he expected to take delivery of his new, 32-foot World Cat center-console catamaran this week. The boat is powered by twin 300-horsepower Yamaha outboards.
"It will get my customers out to the fishing grounds more quickly, so they will spend more time with lines in the water in the course of a trip," Lanier said. "And, when necessary, it will be easier for me to get my boat out of harm's way."
What will Lanier name his boat?
"We're not sure," he said, "but we're leaning toward 'Cat 5.' "
On October 10, 2019, Photographer Alex Workman of We Are The Workmans and the #NeverForgottenCoast project followed Commissioner of Agriculture and Consumer Services Nikki Fried as she visited Mexico Beach. The city, which was devasted by the storm, is still recovering. Businesses are slowly reopening yet grocery stores and gas stations remain destroyed. Below you'll find photos of their visit and resources so that if you wish, you can assist in the rebuilding of these communities.
Photos by Alex workman
Recovery Needs Resources
In response to the devastation created by Hurricane Michael, agencies and organizations were mobilized and created to help individuals, neighborhoods and communities rebound.
All are seeking financial contributions, helping hands or both to accomplish their missions. Here are three …
One North Florida 365, onenorthflorida.org
The initiative is collecting donations that will directly impact the storm zone; recruiting volunteers to complete jobs related to the storm and encouraging visitation to affected areas.
HOPE Panhandle/SBP, hopepanhandle.org, sbpusa.org
A combined effort focused on rebuilding single-family residences for people who were living in now damaged homes at the time of the storm and will remain in them for at least five years after repairs are made.
Rebuild 850, rebuild850.org
The campaign is encouraging contributions to the Florida Disaster Fund and is working to promote awareness throughout Florida of the continuing storm-related needs of Northwest Florida.