EntreCon Ignites and Educates Local Businesses
A Recap of EntreCon 2017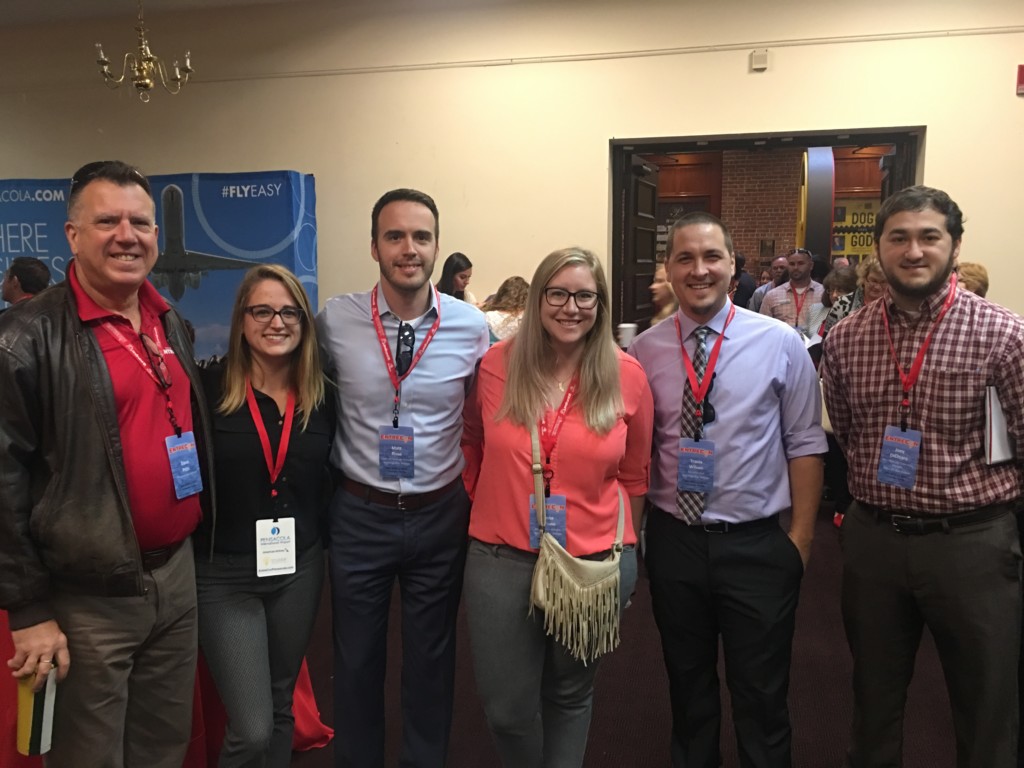 From the lone entrepreneur enacting their business plan to the family-owned company expanding through the years, the impacts of these businesses are noticeable within the communities they serve. Quint Studer, founder of Studer Community Institute, recognized the value of local businesses and started EntreCon, a three-day business and entrepreneurship conference geared toward advancing growth and leadership opportunities. In its third year, EntreCon was larger and more informative than ever.
The 2017 edition of EntreCon was held Nov. 14-16 throughout downtown Pensacola, with the keynote speakers addressing over 450 attendees at the Pensacola Little Theatre. This one-stop-shop for entrepreneurs, professionals and business leaders provided a variety of mediums for advice — including speakers, breakout sessions, workshops and plenty of networking opportunities.
Studer wanted to provide a cost effective way to invest in employee development, so instead of sending Northwest Florida employees to conferences around the country, he brought notable speakers and valuable resources to their backyard.
The 2017 keynote speakers included: Dan Heath, co-author of Made to Stick and Decisive; Brad Israel, COO, chief leadership officer of 68 Ventures and FM Solutions; Liz Jazwiec, author and president of Liz Jaz; Scott Ramsey, managing director, Integrated Operations Center of American Airlines; Kevin Sheridan, employee engagement and virtual management expert; and Bert Thornton, former president and chief operations officer of Waffle House, Inc.
Speaking topics included strategies for maintaining work/life responsibilities, empowering employees while maintaining productivity, emphasizing female leadership roles, boosting company morale, creating memorable customer experiences and overall positivity.
Between keynote speakers, an array of breakout sessions covered topics such as cyber security, team building, social media, legal advice, branding, creating a company culture, money management and more.
The conference concluded with the EntreCon Awards, which recognized the achievements and economic impact made by leaders and businesses within the community. Awards included start-up of the year, micro-business of the year, small business of the year, medium-large business of the year, family business of the year, employer of the year, most improved and entrepreneur of the year.
With comprehensive sessions, quality advice from profitable business owners and valuable one-on-one networking, EntreCon enjoyed another year of engaging, educating, connecting and bettering Northwest Florida's businesses.
---
To learn more about EntreCon and Studer Community Institute visit http://entreconpensacola.com and http://studeri.org.
To read about the topic of empowering women in leadership roles that was emphasized in Liz Jazwiec's speech read here: http://www.pnj.com/story/money/business/2017/11/15/entrecon-speaker-focuses-empowering-women-leadership-roles/860424001/
The writer, Joseph Baucum can be reached at jbaucum@pnj.com or (850) 435-8632
For a summary of the 10 major takeaways from EntreCon 2017: http://www.pnj.com/story/money/business/2017/11/25/top-10-leadership-takeaways-pensacolas-entrecon-2017/893470001/