Enterprise Florida's Dr. Neal Dunn Opinion of The State
Dr. Dunn says state is going to be fine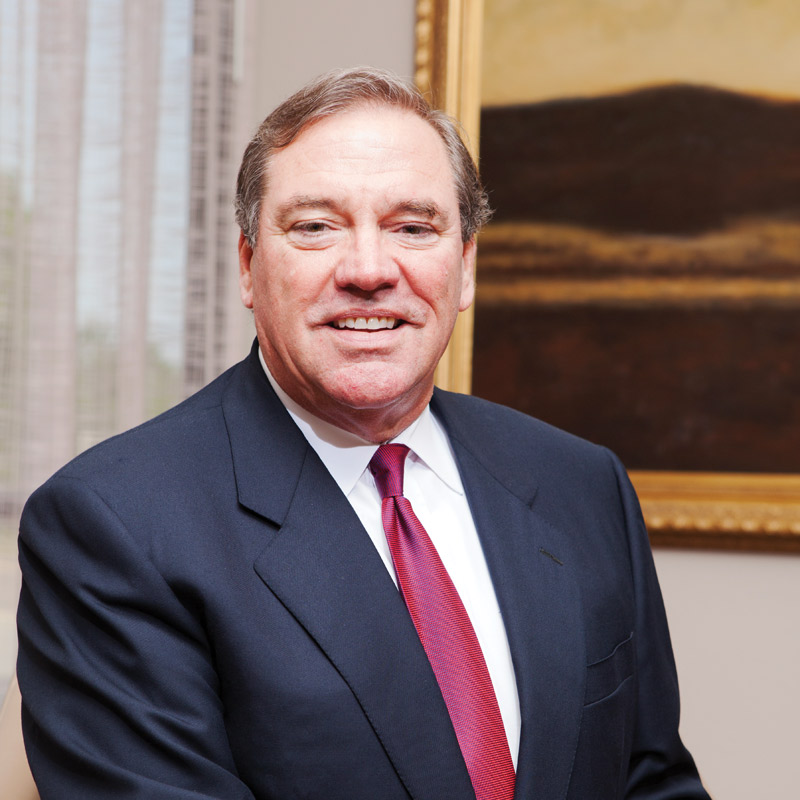 Matt burke
Dr. Neal Dunn is admittedly road weary, newly returned from a medical convention in St. Louis, but his face brightens as he makes a mental note.
I have managed to tell him something that he didn't already know, a finding by scientists who have discovered that a number of higher-order animals ranging from hummingbirds to humans to elephants all average about one billion heartbeats in a lifetime.
"I'll remember that," Dunn says. "And I'll be more mindful of how I am drawing down my billion. I guess I may need to do more fishing."
That seems unlikely. Dunn is busier now than he was as a practicing urologist, and he shows no signs of slowing down.
"Life should be lived like this," he says, moving his open hand along a level plane parallel to the floor. "And then right at the end, it's like this." (Dunn's hand takes an abrupt nosedive.)
"Think about Ellis Fowhand," the owner of a landmark furniture store in downtown Panama City. "He drove to his 100th birthday party after working all day. I think medicine can help more people live lives like that."
Asked what he would suggest if given an opportunity to rewrite Florida's motto, Dunn offers "Mix Business with Pleasure." For Dunn, business is pleasure and a key to his vitality.
Born an Army brat in Boston 61 years ago, Dunn earned his bachelor's degree from Washington and Lee University and his medical degree from George Washington University. He completed his urological residency at Walter Reed Army Medical Center and served as an attending urologist in the U.S. Army for 11 years, "traveling the world at taxpayer expense" before moving to Panama City where he has been a urologist for more than 20 years.
Now retired from active practice, he has assumed an administrative role as the chief medical officer for the Advanced Urology Institute, a 45-physician practice with some 400 employees and offices throughout North Florida. The transition wasn't easy.
"Urology is the best specialty in medicine for one simple reason — the patients," Dunn says. "As a urologist, you get to work with people for years and develop relationships with them. And it's a great demographic. You deal with mature men and women with reasonable expectations. Of course, every doctor enjoys the reward of working with patients and seeing them respond to treatment."
Today, Dunn's chief patient may be one for whom he exhibits great fondness, the state of Florida. The patient is doing better, the doctor says, and the prognosis is good.
In April, Florida Senate President Don Gaetz appointed Dunn to serve as the Senate's representative on the Enterprise Florida Board of Directors. On the local level, Dunn works to foster development as the founding chairman of Summit Bank, a five-star institution that is headquartered in Panama City and focuses on custom commercial lending.
"For too long, Florida has suffered from the perception that we are purely or primarily a tourist destination," Dunn observes. "But we have become so much more than that. We have a vibrant young and educated workforce, good schools, an ideal tax environment, low cost of living, outstanding medical care and a great place to live."
Dunn applauds the Governor's Office and the Legislature for taking steps to make Florida an increasingly attractive place to work and build a business. The regulatory burden has been decreased, Dunn observes, permitting has been streamlined, high school graduation rates have improved dramatically, a push is on to make college degrees more affordable and educational opportunities are expanding. Transportation improvements, the arrival of heavy rail and an evolving Port Panama City have made it easier to get both goods and people in and out of Northwest Florida.
Dunn sees Enterprise Florida's role as two-fold. It coordinates efforts to attract industry to Florida and it teaches county and municipal governments and local economic development alliances how to make themselves attractive to expanding and relocating businesses.
"Illinois, for example, is granting enormously generous tax-abatement incentives for five or 10 years," Dunn notes. "But if we can lead businesses to take a longer term, 15-year pro forma, and take into account the total costs that they will incur here over that time and our quality of life, Florida will win every time. To paraphrase Ronald Reagan, 'It's morning in Florida.' "
Regarding health care, Dunn says, Florida needs to recognize that its population of doctors is aging. The state lacks sufficient residency opportunities for graduating doctors, but Dunn is satisfied that hospitals are figuring that out.
Dr. Neal Dunn's Prescription for Success in Life and Business
---
Add value to the world. Think about work in terms of providing value instead of just chasing money.
Find good mentors. Education is a lifetime process. Network and learn from mentors you respect, and listen to them carefully. I learned a great deal from my friendships with people, including banker Bubber Nelson and Earl Durden of the Bay Line Railroad.
Be prepared to work. There really are few surprises in the formula to success: punctuality, hard work, discipline, attitude.
Work with integrity. Set an example. Build on honesty and respect for others, and you will be successful and feel good about it.
Read voraciously. There is a great deal of knowledge, insight and wisdom at our fingertips. Reading opens the door to the marketplace of ideas.
"They look around and see a lot of urologists my age and they know that isn't necessarily a good thing," Dunn says. "We need slots in both primary care and specialties. Fortunately, Florida does have a bumper crop of new medical schools."
Dunn rates Pensacola a boomtown and credits the city with "resetting its attitude" and becoming less insular after sustaining hits from three hurricanes.
"They have a progressive mayor in Pensacola in Ashton Hayward," Dunn says. "They have become a welcoming community with a good chamber of commerce and economic development arm. The University of West Florida is a fine school."
Dunn sees the Advanced Technology Center at Gulf Coast State College in Panama City as an example of the New Florida. There, he said, students are encouraged to be entrepreneurial and to pursue education as a means to achieving goals. He is impressed that the school has an "entrepreneur in residence."
But, Dunn says, Bay County has a difficult time convincing people that it is home to outstanding educational opportunities when it is synonymous in the minds of many people with Spring Break. Sensational coverage earlier this year by Fox News of Panama City Beach's annual bacchanal "left Bay County with a black eye," Dunn says. "We don't need to experience national press like that again."
At that, Dunn reflects on the day in 1990 when he informed his parents that he was moving to Panama City.
"My mother responded by telling me that she had spent her spring break in Panama City in 1946. 'Mom, tell me no more,' I said. That's enough."