Downtown Tallahassee Gets a Major Facelift
Focus is on something for everyone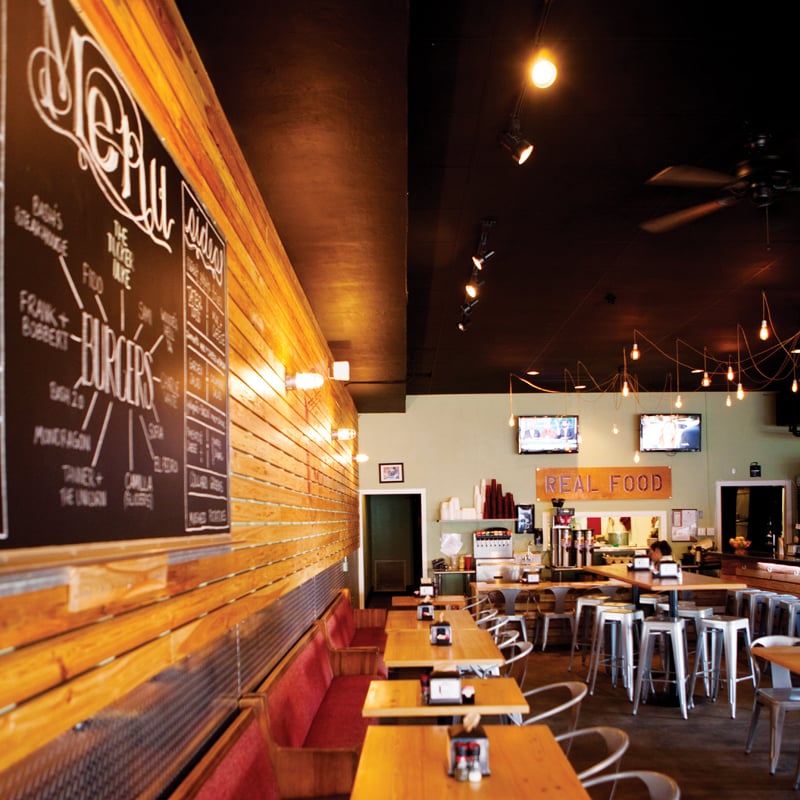 Over the past few years, Tallahassee development professionals have been working diligently trying to transform the sleepy downtown ruled by government and political offices into a destination for both work and play.
And, they might finally be starting to see the payoff.
Matt Burke
Tucker Duke's serves up some of the best burgers in town
"I think downtown Tallahassee has come a long way in the last 10 years," said lobbyist Jon Costello, who recently opened up the burger joint Tucker Dukes with his partner and longtime friend Brian Cartenuto. "Now, there's a bit of buzz."
The core section of downtown from Tennessee to Gaines Street and Franklin Avenue to Bronough Street is still dominated by lobbying, law and public relations firms. But area officials are seeing signs of growth around the edges that are making them hopeful.
Across the country, city planners and development directors have seen the millennial generation shun the suburbs and move back to downtown areas. And Tallahassee has been no different, said Jay Revell, executive director of the Tallahassee Downtown Improvement District.
"Across the country, millennials are wanting to live closer to bars, restaurants, parks, and we're seeing that locally," Revell said. "We're trying to create a scenario where there's something for everyone downtown."
But with many areas of downtown locked down by government and political businesses and a few bars and restaurants that cater to the capitol crowd, Revell and other city development officials began looking at the edges of downtown for bigger developments.
City officials focused on developing the area around Gaines Street, now known as CollegeTown, which has attracted a slew of new restaurants and stores like Urban Outfitters and a bar called Madison Social. They also built up an area called Cascades Park off of East Lafayette and East Gaines streets with trails, picnic spots and an outdoor stage for concerts.
And many believe that those developments will only buttress downtown.
Rick McAllister, president and chief executive officer of the Florida Retail Federation, a private interest organization advocating for the business community, said he was "bullish" about the area surrounding the capitol.
Though he'd still like to see more of a mix of businesses — more retail options — to complement the business offices, he believes the condos built in Klemen Plaza in the early 2000s and the developments in CollegeTown and Cascades Park will push more people downtown, he said. And that will encourage more investment and a desire for retail that didn't previously exist.
Just prior to the commercial real estate market plummeting, the Retail Federation purchased $4 million worth of property on Duval that it hoped to turn into a multiuse facility. They held off on the plans while the economy steadily improved.
The federation spent another $4.5 million this September to purchase the building it has occupied on South Adams Street, and McAllister has been fielding inquiries about the original investment.
"So, we have almost $9 million invested," McAllister said. "That should tell you what we think about downtown."
That's not to say there hasn't been development in the traditional downtown area in the past few years.
Since 2009, two new hotels have opened in the downtown area — Aloft and Hotel Duval. Hotel Duval includes a popular rooftop bar called Level 8 and a Shula's 347 Grill. Another hotel, the Doubletree on Adams Street, is undergoing a substantial renovation.
Lawrence Davidson
Level 8 at Hotel Duval is one of the hottest nightspots in the downtown area.
A downtown food truck court was established on Wednesdays at 725 S. Bronough Street. Plus, a new clothing boutique for women opened within the long-standing Nic's Toggery on Monroe Street and a Walgreen's opened up at the corner of Monroe and Tennessee streets. Costello and Cartenuto's Tucker Duke's opened at the tail end of August.
Tucker Duke's has seen long lines since it opened. The location "just drew people in," Costello said. "Downtown is primarily dominated by government," he said. "But the people I work with up at the Capitol need to eat somewhere."
But attracting businesses is only one part of the Downtown Improvement District's plans, Revell said, adding the city also needs to invest in smaller projects that can go a long way in enhancing the quality of life in the area.
For example, bike racks were installed downtown as a way to help the many cyclists, particularly ones who work in delivery for area restaurants. Previously, they had to find an open post or area that could accommodate a bike lock.
And earlier this year, the Knight Creative Communities Institute and the Downtown Improvement District partnered to launch the Porch Swing Project.
KCCI had built swings at Lake Ella as part of a project to improve that area, but Revell loved the idea and wanted to have them downtown and throughout the city. Currently, there is one on Adams Street in front of the Greenburg Traurig offices, but Revell hopes more will be installed throughout the city.
"We want to have these cool porch swings everywhere," Revell said.
If you would like to study the Downtown Improvement District's strategic plan, you can find it by clicking here.