Consultants Working to Revive Panama City's Downtown and Waterfront
A packed house listened as they explained the recovery planning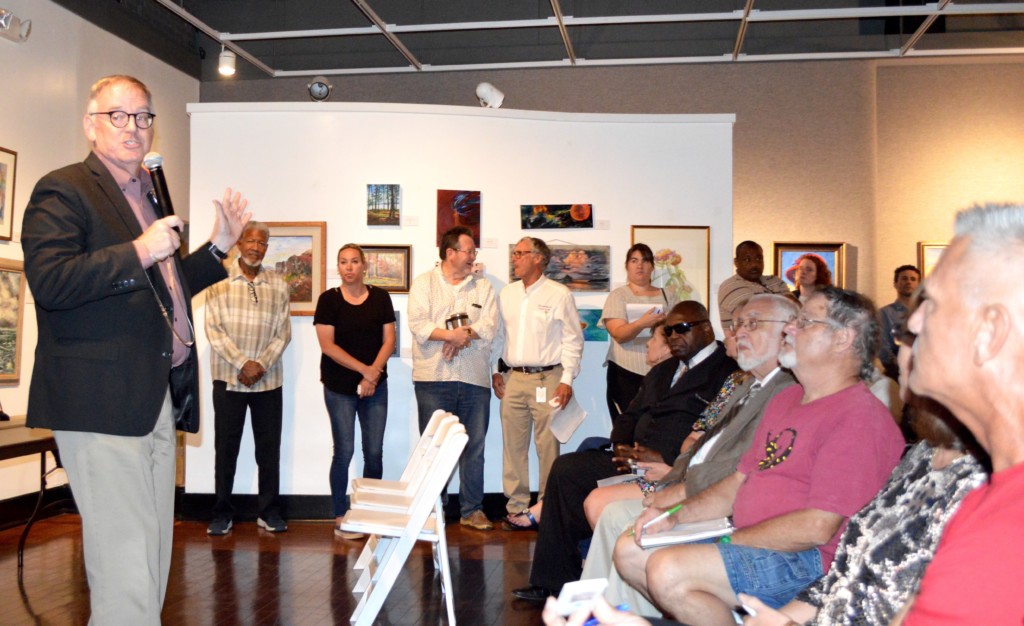 Had the fire marshal stopped by Monday evening at the upstairs gallery at the Center for the Arts in Panama City, he might have found cause for concern. Hundreds of people stuffed the room, dozens of them standing, all of them curious to hear from representatives of consulting firms retained by the city to reimagine and revitalize Panama City's downtown and bayfront.
"Downtown is a shared space," said urban planner Victor Dover of Dover, Kohl & Partners, a Coral Gables firm whose focus is sustainable community building. "It is to the city as a whole as the living room is to a house. Everyone has a relationship to it. And the waterfront, that is your front porch."
Dover described a collaborative process that will include input-gathering charrettes during the week of June 17 — participants will be asked to "draw what they want to see" — and the conversion of the gallery space to a temporary design studio where anyone with an interest will be welcome to stop by and monitor the progress of work.
"With your help, we want to build a plan that we can present with a straight face to your mayor and city officials," Dover said.
"We have a blank slate," Mayor Greg Brudnicki had said in getting the session started. "When I first ran for office eight years ago, I promised to unleash the potential of Panama City. I am sorry it took so long to get to this point, but anything we might have built over the past few years probably would have been wiped out by the storm, so maybe God had a plan somehow."
April Geruso, the "director of resilience" with Hagerty Consulting of Evanston, Illinois, said the overall downtown project will focus on four "lines of effort": safety and security, the economy, infrastructure and quality of life. She estimated the project will consume six to eight months. A key component, she said, will be the development of a "pre-disaster recovery plan" to prepare the city for a possible future event like Hurricane Michael.
Dover was in the midst of presenting a slide show that illustrated the events and deliverables comprising the planning process when the ceiling-mounted projector he was relying upon conked out. All of a sudden, the meeting has arrived at that station that Brudnicki had mentioned: a blank slate.  Jayson Kretzer, director of the Center of the Arts, tried to revive the machine by poking its buttons with a stick, but the attempt failed. He resorted to hustling up a widescreen TV as a replacement.
Resilience, indeed.
Dover proceeded to present before-and-after shots of neighborhoods in Miami, Atlanta, Birmingham and Chattanooga that his firm has been instrumental in enlivening. Impressed, the crowd let loose with oohs, ahs and a few "amens." But when Dover gave his audience a chance to speak to their priorities, the conversation moved quickly from pretty cityscapes to food and shelter.
One discussed the "food deserts" that resulted from the storm and others described a housing shortage and unscrupulous, gouging landlords.
Their comments caused Brudnicki to grab a microphone. He encouraged all who have been victimized by jacked-up rents to contact City Hall and pledged to report offenders to the offices of the state attorney general and the chief financial officer.
Dover and Geruso called upon the crowd to frequently consult a newly established website, rebuildpc.org, for project updates and key dates.
The charrettes, Dover promised, will be the "loudest and least predictable" aspect of the work.
On Monday night, it seemed, there were a lot of people ready to make some noise.