Conditioning Development
Uriah Matthews anticipates Walton County's future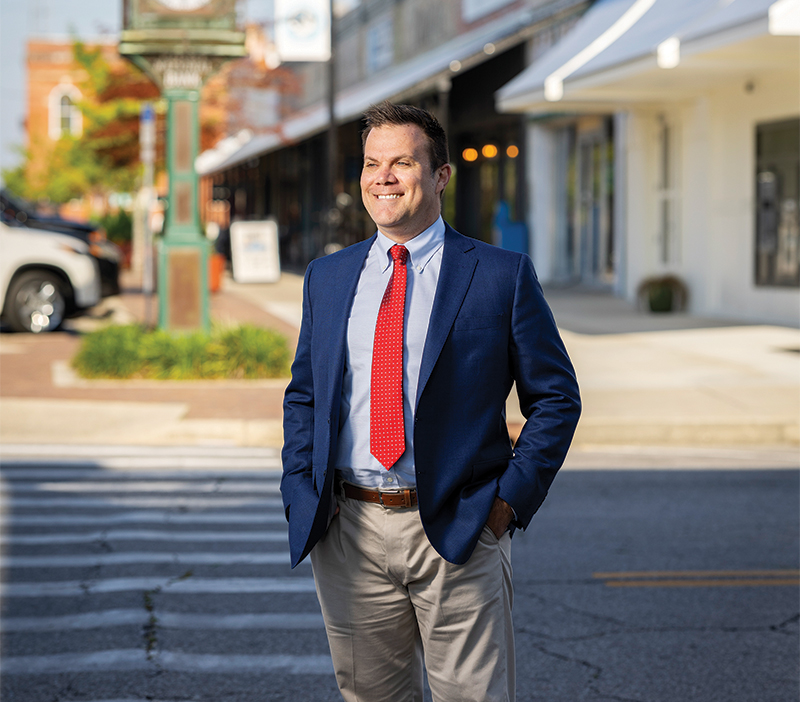 Uriah Matthews went to work as Walton County's economic development director in January and, in the months since, has worked to familiarize himself with its players, priorities and a certain polarity.
In the process, he has gained clarity about what his role can and should be.
"We need to bring the community together and move toward creating a plan that will provide for the conditions that will attract businesses and provide for prosperity," Matthews said in the course of an interview conducted over coffee at the Perla Baking Company in downtown DeFuniak Springs.
"We cannot just choose to be prosperous," he added, "but we can bring about the conditions that invite success."
Matthews was 4 when his parents moved from Chautauqua, New York, to Walton County, whose county seat has a long history as a host of Chautauqua events. He had no desire to depart the county upon graduating high school, and rather than going off to college, he went to work at the Hilton Sandestin Beach Golf Resort & Spa, first as a bellman and ultimately in a management job called "journey ambassador."
"My role was to spread the 'light and warmth of hospitality,'" Matthews said. "That phrase comes from a speech Conrad Hilton once made about the role of the hospitality man."
Matthews sees parallels between his work at the Hilton and his current role.
"In interviewing for this job, I got the sense that board members wanted a cheerleader, and I have already been a cheerleader," he said. "I would welcome someone at their car, wave them goodbye and in between help them make the most of their vacation."
At the Hilton, Matthews the hospitality man also established the resort on social media platforms and contributed to a marketing and public relations plan written in the aftermath of the Deepwater Horizon oil blowout.
He moved on to IT positions with AppRiver in Gulf Breeze and with companies in California and Texas. He met his wife Laura, who is a software engineer, along the way before boomeranging all the way back to Walton. He was self-employed as an operations and technology consultant when he became aware of the Walton County Economic Development Alliance's search for an executive director.
While working for a California software company, Zumasys, he held the title of solutions consultant.
More parallels.
"In Walton County, we have no problems," Matthews said, "only challenges requiring solutions. At the Economic Development Alliance, we're in the solutions business."
Matthews said people often perceive Walton County to be larger than it is.
"Our year-round population (83,304, U.S. Census Bureau estimate, July 2022 estimate) is what Okaloosa County's population was prior to 1970," he explained. "We have a lot of visitors here, but they're feathers on the bird. Because we think we're big, we feel like we shouldn't have the kind of issues that result from being small. Our population is our biggest obstacle to growth. We need more people. We gotta put more body on the bird."
Not that Matthews doesn't concede the inevitability of growth. He does. He wants to prepare county residents for what's next while creating an atmosphere well suited to attractive companies.
"We have to be what people are looking for," Matthews said.
Matthews would never say so, but it is all rather like that hopeful suitor who approaches a hottie at the bar. If it ain't right, it ain't gonna happen.
As to the county's current residents, Matthews said, "We need to think about how we help people now and also as we move forward on our growth track. It won't take us 50 years to get from our current population to Okaloosa's current population (an estimated 221,000). We need to think about how we become a community that embraces the reality that we are going to grow."
Matthews sees Walton County as a place that — like it or not — is about to exit a protracted adolescence.
"As a person, wanting to stay young doesn't work; you will age," Matthews said. "For the county, the equivalent to age is population benchmarks. We need to have a really good grasp on who we are today, who we have been in the past and how we keep that flame and the spirit of community alive.
But we also have to understand that tomorrow we're going to be at 90,000 people. And the tomorrow after that, we will be at 100,000. If we're 15 today, we need to figure out how to become 16."
Growing up in Walton County, Matthews had no awareness of a North vs. South dynamic. He does now.
"I can see the polarization, and there is a lack of appreciation for how different parts of the county complement and support each other," Matthews said.
Matthews grew emotional as he likened the county to a shop owner in colonial times. The blacksmith, he said, had his business located on the road, a residence located behind the business and a garden located behind the residence.
In Matthews' mind, Walton County sets up in much the same way with tourism along the beach, a band of residential development and then farms.
"The North and the South need each other," he said. "If you get on Highway 331 in the morning, you'll see lines of cars headed south from DeFuniak Springs and Freeport to go to work. Our communities are intertwined. There is a symbiotic relationship."
Matthews recalled a conversation about Walton County agricultural interests that developed at a workshop meeting. Development activity is resulting in higher land values in North Walton. The farmer who wants to remain a farmer may be unable to expand his operation as land becomes less affordable. His neighbors are selling land to developers.
What can Walton County do to help that farmer?
"The truth is it may not matter," Matthews said. "Okaloosa County is developing the 10,500-acre Shoal River gigasite. They have created conditions designed to attract massive employers. We don't get to govern Okaloosa. To the extent that Okaloosa succeeds with its gigasite, it will apply its own development pressure on North Walton County. Even at two jobs per acre, that's more than 20,000 jobs, and a lot of those employees will live in North Walton. We have low taxes; people will want to live here. And developers will knock harder and more often on the doors of landowners."
Over the next 50 years, Matthews expects that pressure to create new municipalities in Walton County will grow.
"People will want hyper-local governance," he said. "Today, we have a small number of cities relative to our geographic size. When a single county commission tries to manage a large unincorporated area, challenges occur. I think the north-south conflict arises in Walton County because areas that should be incorporated are not. Areas that have very different sets of needs are operating under the same governance structure. One portion of the county may consistently be on the short end of a 3-2 or 4-1 vote. How do you solve that? You incorporate a municipality that addresses community issues. The point of a city is to manage the unique challenges of the area within its limits."
For Matthews, intentionality is important where the diversification of local economies is concerned. He sees the gigasite and the St. Joe Company-authored West Bay Sector Plan in Bay County (later expanded to include some acres in Walton County and renamed the Bay-Walton Sector Plan) as two examples of intentionality related to growth.
"How are we going to devise our plan?" Matthews wondered aloud. "One of the biggest responsibilities of the Economic Development Alliance will be to sit down with the interested parties — government, business and residents — and figure out how we bring about our own sector plan or other actions related to diversification."
Matthews recommends that for the near term, Walton County do more of what it currently does best — construction and tourism.
"Construction, both residential and commercial, is going to do very well for quite some time," he said. "My phone is ringing. We have people calling every day looking for thousands of square feet of commercial space. We're gonna need a lot of people building stuff. While maximizing our established activities, we can be making plans to go after new types of employers."
That pursuit, Matthews said, returning to his central point, must include creating optimal conditions for growth.
"A business is not in the business of helping a county figure out how to get them there," he said. "A search committee or site selector wants EDAs to respond to their inquiries by saying, 'Here's my baseball card. Check out our stats.' And ideally that search committee will say, 'This place looks great. They've got the ordinances in place that we're looking for. They've got shovel-ready sites. They have landowners who want to participate. They've got a great on-base percentage.'"
---
Walton County Community Profile
Source: Applied Geographic Solutions, Florida Chamber of Commerce
Total Population: 81,442
Age Distribution:
0–9: 9,297
10–19: 8,808
20–29: 8,797
30–39: 10,201
40–49: 9,610
50–59: 11,186
60–64: 6,456
65+: 17,087
Educational Attainment:
<Grade 9: 2.73%
Grade 9–12: 7.98%
High School: 29.02%
Some College: 20.98%
Associate Degree: 19.42%
Bachelor's Degree: 19.42%
Graduate Degree: 10.34%
Walton County Metrics
5/08/2023
» Jobs added: 1,081
» Children in poverty: 21.7%
» 3rd Graders Reading at grade level: 60%
» Housing permits issued: 2,139
» Sales tax revenue: $39.22 million
» Poverty rate: 12.8%
» Land in conservation: 39%
---