Be the Magic Foundation Pledges Over $45,000 in Support for PAWS in 2023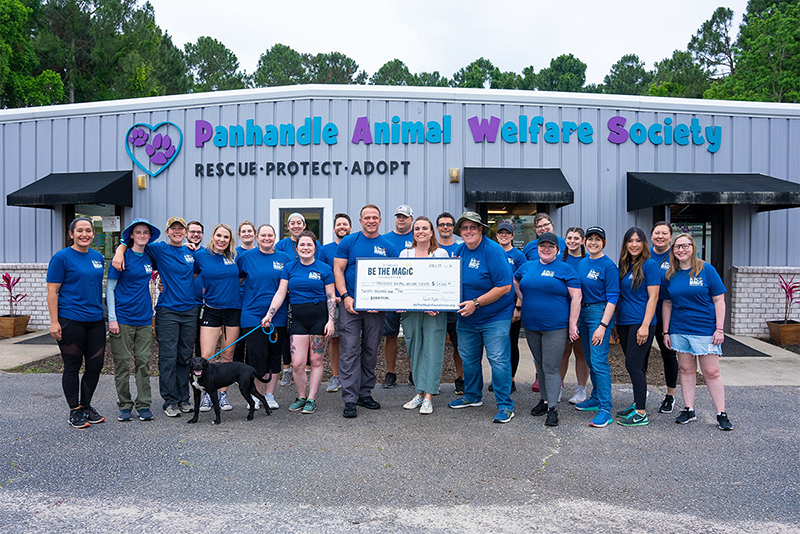 To kick off its third year of partnership with the Panhandle Animal Welfare Society, Bit-Wizard's Be the Magic Foundation (BTMF) is doubling down on its support this year.
On Saturday, April 29, BTMF presented PAWS' executive director, Ashley Degraaf, a check for $20,000 and spent the afternoon volunteering onsite. In addition to the cash donation and over 40 hours of Wizard volunteer time at the facility, PAWS will also receive a total of $20,000 in hardware and skill-based services.
"Bit-Wizards has been a true partner to Panhandle Animal Welfare Society. From supporting our digital infrastructure to volunteering with our animals, PAWS can always count on the Bit Wizard team to show up in a big and meaningful way!" -Maggie Tomecek, community development coordinator.
PAWS recently launched the Kennels for Canines project to improve the lives of the pets in their care through a Kennel Rebuild Initiative. As part of this Initiative, various parts of the kennel are up for sponsorship.
BTMF pledged to support the rebuilding of an entire wing for the facility. Along with the new wing donation, Bit-Wizards' Managed IT Services team donated and installed a new server to assist with PAWS' day-to-day operations.
The Bit-Wizards' Marketing team will also assist in highlighting a monthly adoptable pet. Keep an eye on the Bit-Wizards' Facebook and Instagram pages to learn about each Pet of the Month starting in May!
Learn more about Be the Magic Foundation
The Be the Magic Foundation (BTMF) board selects nonprofit organizations to partner with each year whose missions support four main areas: animal welfare, community development, people with special needs, and youth development. The Foundation accepts partnership requests on an ongoing basis. Interested nonprofit organizations can visit BeTheMagicFoundation.org to learn more.
Learn more about Bit-Wizards
Bit-Wizards is an award-winning software development and managed IT company. Founded in 2000 and recognized for excellence at the national, regional, and state level, Bit-Wizards is the result of a vision to create a company where innovation and creativity flourish.
With the latest certifications in cutting-edge technologies, Bit-Wizards provides the highest level of expertise to drive their clients' vision forward. Visit BitWizards.com and follow us on Facebook, Instagram, LinkedIn, and Twitter for more information.
Learn more about PAWS
The Panhandle Animal Welfare Society is a 501(c)3 non-profit organization first incorporated in 1976. They have played a key role in the field of animal care and control in Northwest Florida for decades with dedication.
The first facility was a small building in Valparaiso, Florida. In 1986, the shelter was renamed the Panhandle Animal Welfare Society, affectionately known as PAWS. Today, they serve over 160,000 residents in Okaloosa County and surrounding communities with a facility in Fort Walton Beach at 752 Lovejoy Road NW. PAWS seeks to provide the resources, education, and programs needed to improve animal welfare.
They have a Humane Services Division that oversees the care of the animals taken into the Adoption Center and Vet Clinic. They also have an Animal Control Services Division and a local thrift store, the Junkyard Dog Gift N' Thrift shop located at 179 Eglin Pkwy NE, Fort Walton Beach. Visit their website to learn more about adoptions, donations, volunteering and more at paws-shelter.org.