Betting on the Future
Poker room has already been a boost to Gretna's economy, but residents want more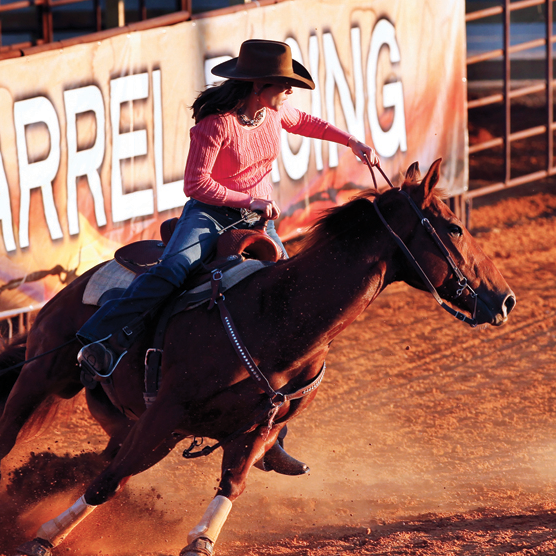 At the Mary Soul Food Cafe on Gretna's Main Street, La Tasha Murray was dishing out home-cooked fare, including oxtail, collard greens, cornbread and peach cobbler, topped off with a tall glass of sweet tea.
The cozy cafe, which opened in July, is a rare new business in the tiny city of 1,550, a poor rural community that's easily missed as motorists zoom by on Interstate 10.
That needs to change, said Murray, whose sister owns the cafe. She's betting on gaming as an economic boost in a county where the median income is $30,500 and 29 percent of the 48,000 residents live below the poverty line.
"I can't wait till there are slots," Murray said. "I know it will make a big difference. If slots can be in South Florida, why not here?"
It's a question echoed by other Gretna residents and local officials, who envision a first-class gaming facility with a hotel, restaurants, stores, equestrian center and even a bowling alley on the sprawling acres off Exit 174 on I-10, a site about 3 miles from the downtown cafe.
For now, Creek Entertainment Gretna offers a modest 21,300-square-foot facility with a spacious poker room that can accommodate about two dozen tables and simulcast racing; a second room with plenty of seating for eating or watching more screens; lots of TVs; a bar where you can order snacks and sandwiches as well as drinks; and a meeting room. Outside there's a rustic setup for controversial rodeo-style barrel racing and pari-mutuel "flag-drop" racing.
The building, open since December 2011, is considered a temporary structure until Gretna can gain approval for slots, with the development of a multimillion-dollar casino complex to follow.
"At the end of the day, it's not about gaming," said Gretna Mayor James Payne. "It's about giving individuals a better quality of life. When kids graduate, there's nothing for them to do in Gretna, so we lose a lot of our residents."
Longtime residents are also struggling, he said.
"I was born and raised in Gretna, and I've seen a lot of people lose their jobs," Payne said. "Many were state employees. There are people who desperately want to work."
The creation of 850 to 1,000 jobs providing health insurance is one of the benefits expected if the casino complex gets off the ground.
The hope is that with easy highway access, a North Florida casino could attract travelers, truck drivers and tourists who might otherwise spend their money in Alabama, Mississippi and other states with gaming. City officials said the current poker room is primarily attracting people from surrounding areas, though some residents said they have checked it out.
"I think it's a nice place," said Oliver Hale, 60, who was having lunch at the Mary Soul Food Cafe. Like Murray, he's in favor of building a casino. "The city needs the jobs."
Gretna City Manager Antonio Jefferson considers gaming a "catalyst" for growth and employment in the region.
"We want to take people off the welfare rolls and put them on the payroll," Jefferson said.
That dream has been percolating since 2008, when Gretna developed a more aggressive economic policy. The city annexed property south of I-10, set up an industrial park and invested in infrastructure.
The land by the I-10 interchange "was our engine," Jefferson said. "Development was not going to occur in historic Gretna."
So when Gretna and Gadsden officials heard that Jefferson County was opposing plans for a possible gaming site in 2008, they seized the opportunity to bring a facility to Gretna.
"We didn't go into this blindly," Jefferson said. "We practiced due diligence."
The city began a partnership with Equestrian Land Holdings and PCI Gaming Authority, the gambling arm of Alabama-based Poarch Creek Indians, a federally recognized tribe that owns a 1-acre parcel of land in northwestern Escambia County. PCI Gaming runs three casinos in central and southern Alabama as well as the Mobile and Pensacola Greyhound Parks.
PCI Gaming, which operates as a corporation, became the majority (70 percent) owner in the Gretna gaming venture.
"They never came here with the intention of operating as a tribal nation," Jefferson said. "They had the understanding there would be tax implications and community investment."
But no one expected quite the number of complicated legal battles, which have gone all the way to the Florida Supreme Court, that have plagued the project since the opening of Creek Entertainment Gretna nearly five years ago.
In order to move forward, the city needs an approval from the state of Florida to recognize a referendum on slots that Gadsden County's voters passed by 62 percent in January 2012.
"We get a resolution to one challenge and a new one pops up," said attorney Marc Dunbar, one of the founding partners of Equestrian Land Holdings with David Romanik, a developer, horseman and former lawyer for Gulfstream Park Racing & Casino in Hallandale Beach.
The Poarch Creek Indians have already invested about $20 million in Gretna, said Dunbar, who is a lobbyist for Gulfstream, which has no affiliation with Gretna gaming.
That investment has already helped the region in many ways, according to public officials:
Creek Entertainment Gretna is the third highest real-estate taxpayer in Gadsden County.

The city receives 10 percent of the 25 percent tax on poker revenue, which amounted to $1.8 million in 2015. The amount can change yearly, based on the number of players and amount played.

The project provides $160,000 a year for the city's police department, which has enabled Gretna to use the money for two officer positions and some law enforcement equipment.

The city's gaming partners provided $235,000 as part of a $4 million infrastructure project to connect a gap in water and sewer service in the interchange area, which presented an "immediate opportunity to make the land more valuable. Property values have increased in land parcels near the facility," Jefferson said. "The land was $10,000 an acre with no water or sewer" when the tribe first purchased property. "The last sale of large acreage to the tribe was $29,000 an acre," he said. Now land owners in the area are "expecting $30,000 to $50,000 an acre."

The facility currently employs about 50 or 60 people from Gadsden and nearby counties.
"We want to be a good member of the community," said Jay Dorris, president and CEO of PCI Gaming. He said that Creek Entertainment Gretna is "operating at a loss" at this point.
Whether gaming can become a more powerful economic engine depends largely on what happens in the courts and the Legislature.
Creek Entertainment Gretna has committed to a quarter-of-a-billion-dollar investment within 24 months to build a top-notch gaming resort once slots are allowed. The project is permitted and "shovel ready," Jefferson said.
"Even if you're not a supporter of gaming and think it's the worst, you can't deny that a quarter of a billion dollars in a rural community would be transformative," said City Attorney Harold Knowles. "It would be the largest single investment in the history of Gadsden County."
Once slots are approved, the tribe plans to tear down the current building and build a casino with Class II gaming machines; a proposed 250-bed, $170 million hotel; restaurants, retail and other amenities.
"If Creek Entertainment received a license for its proposed 2,000 slot machines, the estimated revenue would be $100 million per year," said Jefferson, calling it a conservative estimate. "So that is about $3 million per year for the city."
In the meantime, the city is still looking for ways to address a host of needs that include "lowering health disparity" and investing in businesses, like a major grocery store.
"We're a food desert," Knowles said.
While skeptics may question whether gaming can change life for most residents, officials call it the region's best shot at the moment.
The community is "revved up," Knowles said. "They want to know: If not Gretna, why? If not now, when?"
There are no easy answers to a project that has sparked a wide range of emotional, economic and legal issues statewide.
City officials passionately protest that Gadsden, a predominantly African-American county, has been shut out of gambling ventures in Florida, particularly when the county is part of a Florida initiative to help struggling rural communities.
"The state has to get out of the business of picking winners and losers," Knowles said.
While Gretna is still hoping to be a winner in the fight for slots, the project has been at odds with the horsing industry, which had expected the gaming venture would bring traditional quarter-horse racing to the area, and benefit horse-related businesses such as local breeders, veterinarians and hay and feed stores.
That aspect hasn't yet materialized. City officials said plans still call for a world-class equestrian center at the site after slots are approved, but opponents are skeptical, partly because the tribe started out with barrel racing, a far cheaper, less risky attraction than a racing operation, which would have required a huge investment before the first horse left the gate.
Facilities are required to have two years of consecutive racing before holding a referendum to see if residents want a gaming facility.
In the fall of 2011, the state's Division of Pari-Mutuel Wagering approved a license for Gretna Racing to run the pari-mutuel barrel match races, even though the department had never before licensed that type of pari-mutuel attraction.
In a barrel race, contestants zigzag one at a time around three barrels in a clover-leaf pattern. At Gretna, two barrel races took place at the same time in separate enclosures, appearing like a traditional matchup.
The attraction was a boon to barrel racers such as Wendy Monroe.
"It was really awesome," said Monroe, a Marianna resident who competed in barrel racing at Gretna, as well as pro-level events across the country. "The crowds were really into it and enjoyed it."
But horsemen protested that the rodeo-style attraction was "phony" horse racing, with damaging implications for the horse industry.
The Florida Quarter Horse Racing Association Inc. and the Florida Quarter Horse Breeders and Owners Association sued the Division of Pari-Mutuel Wagering to stop barrel racing, and an administrative judge ruled that state regulators had made an error in issuing the permit.
Gretna still presents occasional barrel racing, but it's no longer a pari-mutuel event. Instead, the facility now offers "flag-drop" races, with two quarter horses sprinting side by side for at least 100 yards, which the racing industry still finds objectionable.
"We're very supportive of legitimate horse racing, but we do oppose any attempt to use a scheme that mimics horse racing in order to facilitate getting card rooms or simulcasting elements," said Bill White, president of the Florida Horsemen's Benevolent and Protective Association.
Smith said cutting back on live racing is "detrimental" to the horse industry in Florida, which has a $5.2 billion impact on the state's economy, not including money spent at off-site hotels, restaurants and other businesses during equestrian events.
White is concerned that many Florida pari-mutuels, including horse and dog tracks and jai alai, are pushing for decoupling, which would remove the requirement that racetracks with gaming operations must offer live racing, he said.
Courtesy of Creek Entertainment Gretna
Jay Dorris, president and CEO of PCI Gaming
Decoupling would have a "devastating impact" on breeders and others in the equestrian world, said Ron Smith, president of the Florida Quarter Horse Racing Association. Casinos also enable gaming sites to offer bigger purses to horse owners, which in turn, brings better competitors and more business to the state.
True quarter-horse racing in North Florida would be an economic boon to residents, Smith said.
The city's economic plan calls for an agricultural pavilion and coliseum venue to be constructed on a 20-acre site donated by the tribe, with a variety of equestrian activities and racing, Jefferson said.
While Gretna is still looking at slots as an economic engine, the region is also exploring other prospects that could drive advancement, projects such as becoming a regional water and sewer provider and attracting businesses that would benefit from Gretna's transportation corridor, said Beth Kirkland, head of the Gadsden County Economic Development Council.
"The gaming piece is the center piece of our economic development," Knowles said, "but it is not the only piece."