Beck Partners CEO Thrives in The Information Age
Providing customers with insights that can't be found in a search bar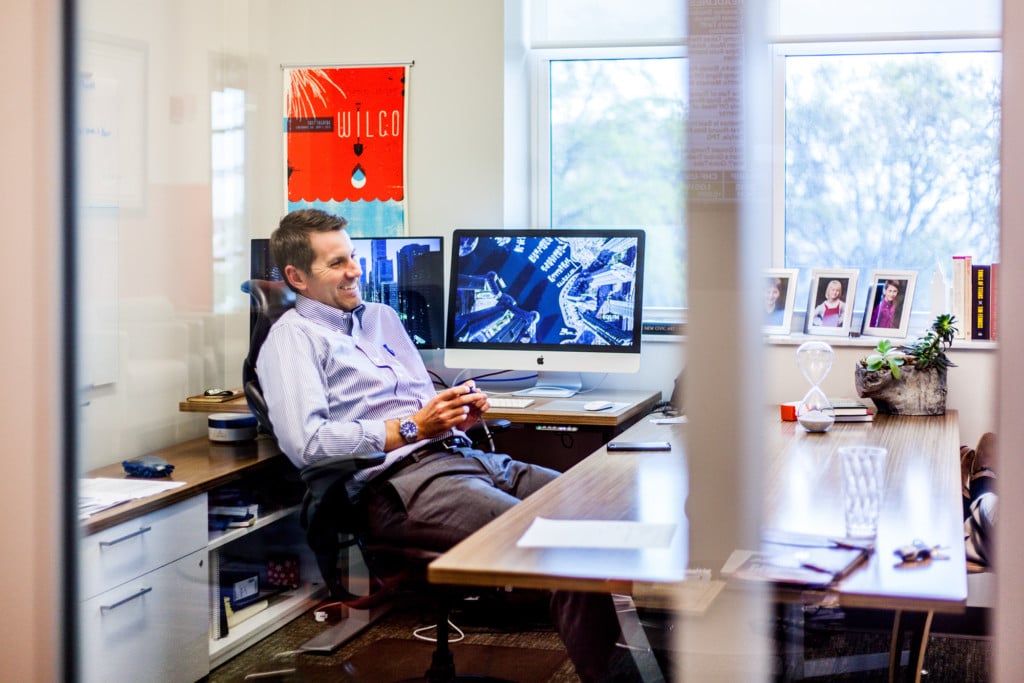 Q & A With Justin Beck
850: Describe the culture at Beck Partners.
Justin Beck: We have a good time and work hard, and there's plenty of lunches, gatherings and activities like that, but we define ourselves by our core values: Fearless, Agile, Smart and Transparent or FAST, for short. Fearless because our clients deserve to hear the best advice, not just what is easy to say. Beck Partners is a small regional firm, but we compete against the largest real estate and insurance firms in the country by being extremely agile. We need people who understand finance and legal matters and complex deals, but they must also understand people. That requires significant smarts. Finally, our clients deserve transparency and frankness about their assets. One aspect of our culture that's really been impressive to me is how our people make it their own: They do things together and for each other, they celebrate personal milestones and it's not something manufactured. 
850: What are the core competencies of your business? That is, what do you do especially well?
JB: Beck Partners provides service to owners and occupiers of real estate through the entire life cycle of the asset. This means we connect our clients to the best opportunities through sales and leasing. We protect them by assisting them with their insurance needs and we add value by managing the property. We really know our markets. Real estate remains a really inefficient market, and we pride ourselves on adding value for our customers with information that can't be found online. Maybe it's the unique traffic pattern at an intersection, or when certain leases are expiring — these are the bits of information that can make a huge difference in a decision an investor or company makes.
850: What attributes or values do you most look for in an employee?
JB: In addition to seeking people who exemplify our core values, we look for people with great self-awareness about their strengths and weaknesses. I look for people who see opportunities. It's the difference between deductive reasoning and inductive reasoning. In school, students are tested on their ability to find the single best answer — that's deductive — but in business there may be 12 different ways to get something done, and that's inductive. I want the person who can see all 12 ways; those people are special.
850: Speak to commercial real estate trends. With growing numbers of people working remotely and given the ascendancy of online retailing, is the demand for commercial real estate declining?
JB: I love real estate because it's one of the most entrepreneurial industries in the world. Our industry is changing, yes, but it's always been changing, and commercial real estate will always play a huge role in making people's life easier, more enjoyable or more successful. The retailers who are going to survive are going to provide a special experience for the shopper, and they are going to have great customer service. Office environments are going to be more like hotels; they'll have great amenities. People will always want to get out of their house and apartment, but now and in the future, their options are limitless, so you better wow them. Driverless cars will have a huge impact on commercial real estate, and for the better, I believe. Imagine no more massive parking lots; that land will become much more valuable when you can put something there instead of just asphalt.
850: To what extent do you find yourself dealing with businesses from outside the region who have an interest in moving to Northwest Florida or establishing locations here?
JB: The data is clear. The majority of any community's growth comes from expansion of local businesses. That said, the secret is out: Northwest Florida is an unbelievable space in which to live and do business. We are seeing new businesses look to move to the area every day and, more importantly, I talk with brilliant young people who see opportunity here when just a few years they had to go to Atlanta, Miami or elsewhere for opportunity.
850: What aspects of property management does Beck Partners devote the most time and energy to?
JB: Good property management requires really good accounting. We have a great accounting team that works with our property managers, and that takes a lot of time when you have several hundred tenants. Beyond the day-to-day, we focus on the overall property health such as the building components, and major assets. More importantly, a great deal of time is spent working to maximize tenant satisfaction and generating returns for investors.
850: Talk about the decision by then-Beck Properties to get into the insurance business via merger with McGraw Insurance. Was that part of a deliberate strategy or did that move result organically when an opportunity presented itself?
JB: We were both looking for opportunities to expand our offerings to better our relationships with clients, but the reason the partnership has worked so well is that we started by asking "Why" and we talked about how we could work together from a personality perspective. We have very complementary skill sets, so it works great.
850: What advice do you have for your insurance clients, particularly in view of the devastation caused by Hurricane Michael?
JB: Know your coverage, deductibles and limits. We are finding that many clients have not looked at the cost of reconstruction in a long time, and they may be underinsured. Most policies also have percentage wind deductibles of from 1 to 10 percent on the total value of insurance and the insured needs to plan for a large out-of-pocket expense. The other main issue we are seeing is ordinance and law coverage is becoming a big deal after Michael. Many of these older buildings are having to be upgraded to current building code standards, and without ordinance and law coverage to cover the additional cost to comply with codes, the insured may find they have to pay out of pocket for these additional costs. We learned from Ivan, just like Michael, how important flood insurance is for everyone. What people don't understand is that everyone in Florida is in a flood hazard zone. They may be in a high- or low-hazard flood zone, but we are all in a flood zone. Being in a low hazard zone and not being required by your mortgage holder to have flood insurance does not mean that you are not at risk of a flood loss.
850: Your insurance customer retention rate hovers around 95%. What are the keys to that success?
JB: Communicating and advising our customers is one of our reasons we have a high retention ratio. Our team advises our insureds on what the insurance coverage options really are. We hear time and time again that they have never had an agent actually explain the coverages that are being offered and what they mean. We are not here to just sell policies. We want our insureds to know what their coverage is and how it works. Insurance is complicated, and our team helps explain the coverages and options in an understandable way.
850: What are the three best things about living in Northwest Florida?
JB: First, our environment is so precious. The waterways, beaches, forests and wildlife are so unique and add so much to the quality of life here. If you look at what's happened in South Florida, you can see what can happen if the environment is not taken care of. I hope we can be proactive about preserving our natural environment in Northwest Florida. Next, our history is unbelievable, not just for tourists but for residents. I get to walk around downtown Pensacola with my kids and see firsthand hundreds of years of history. Our communities are getting really good at telling that story. UWF Historic Trust and Visit Pensacola are doing great work. Finally, the spirit of "betterment" is the only term I can think of to describe the attitude I see around Northwest Florida today. When I came back to town 14 years ago, everyone seemed happy with the status quo. Today everyone wants to get better, improve something, be more inclusive and try out new ideas. It's really exciting.