A Marketing Imperative
Businesses line up for spots on the Black News Channel in their efforts to target a highly valuable market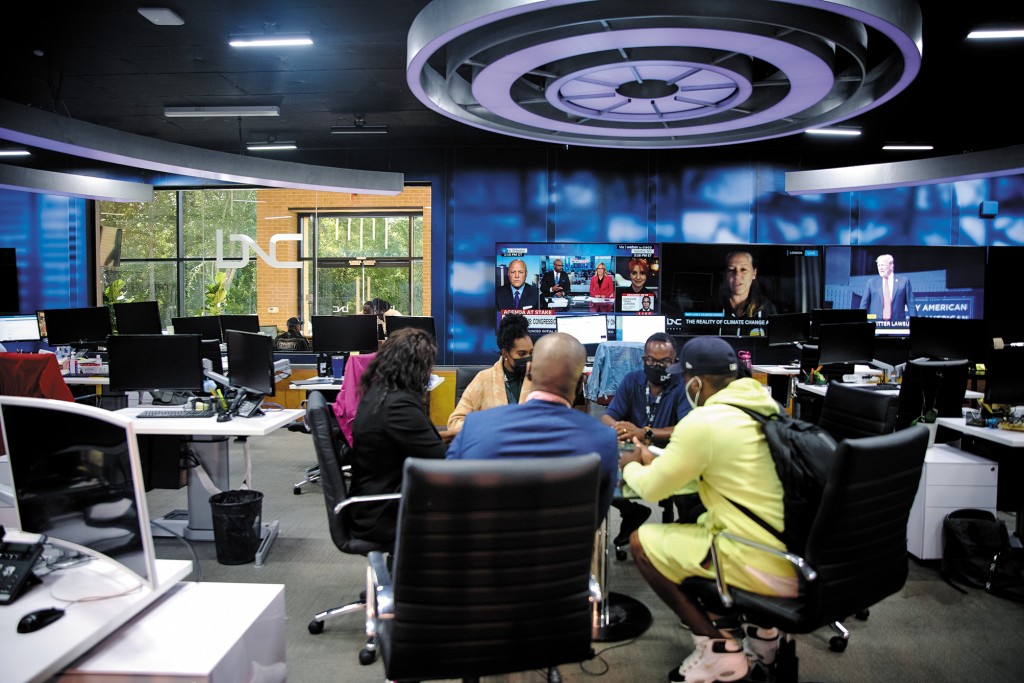 For too long, Princell Hair would argue, news media in the United States have viewed diversity as a charity initiative rather than a business imperative.
Meanwhile, however, Hair has been pleased to discover that a growing number of businesses other than the media have learned that engagement with diverse communities is essential.
Hair joined the Black News Channel, headquartered in Tallahassee, as its president and CEO in July 2020, five months after it was launched and made available to 33 million households via cable providers Spectrum and Xfinity and the Dish network. For starters, it offered six hours of live programming daily.
Much has changed with Hair at the helm of the nation's only 24-hour news channel dedicated to informing, entertaining and educating a primarily black audience.
"We have had some incredible growth over the course of the last ı4 months or so," Hair said. "We have increased our staff from 55 employees to 350."
About ı75 of those employees are located in Tallahassee; Hair has a home at SouthWood. Others work remotely or at BNC's Washington, D.C., bureau. About 80 percent of the staff is African American.
The production load has grown dramatically. "We have gone to ı7 hours of live programming a day on our channel and ı8 hours a day on a separate and distinct OTT channel," Hair said.
Over-the-top (OTT) channels or media services are offered directly to viewers via the internet.
"The job has been a wonderful experience and a labor of love," Hair summed up his experience to date. "The city has really embraced what we are doing here. They have been very accommodating."
Former Tallahassee Mayor John Marks III is BNC's vice president for government and community affairs.
"He has been helpful with some of the young folks who have moved into Tallahassee," Hair said. "They are discovering a new part of the country, and John is our own built-in tour guide for Tallahassee. At the same time, he keeps us updated and in tune with what is happening in Washington."
Via its linear platform, BNC today reaches approximately 50 million homes. That number was due to grow in November when BNC planned to launch on Cox Media, a big player in BNC target markets including Atlanta, New Orleans and Virginia.
"On the OTT platform side, we are available on about 250 million internet-connected devices," Hair said.
The work of expanding BNC's reach and appeal continues. In September, it launched an evening political program, Amplified with Aisha Mills. At this writing, it is planning to introduce in the fall a robust, videocentric website with its own content and voice.
"Next year, we're looking at launching an app that is going to contain not just the news feeds that we currently do," Hair said. "It will address other topics and content areas of interest to Black audiences — travel, family, community, restaurants, various areas that we would like to get into that we may not have time to approach on our linear network."
Hair is mindful that he is playing to a Black, but diverse, audience.
"The Black community is not a monolithic community," he said. "There are varying interests inside the Black community. There are African Americans, there are Caribbean Black folks who are here; it runs the gamut. There are Black conservatives, there are Black liberals, there are Black progressives. Our position is that we try to provide all viewpoints on a particular topic. Then, the audience can make their minds up as to where their position is.
"We don't have a political agenda. Our agenda is to serve the Black community."
On the advertising side of the house, BNC has moved from pursuing clients to entertaining potential customers, lots of them. The channel's pull strategy is working.
"The Black and brown market is too large for businesses to ignore — $300 billion in buying power a year, according to a McKinsey study," Hair noted. "Companies looking for new streams of revenue are seeing that the Black community can provide them. If businesses overlook minorities — Hispanics, African Americans, members of the LGBTQ community, sometimes even women — they are overlooking major opportunities.
"I can tell you that there is no shortage of suitors looking to be a part of BNC. It's a wonderful problem to have, and we hope to continue having it."
Hair said that BNC, during its "upfront" season from April to September, exceeded its own expectations by securing commitments from advertisers in "all the major categories: pharmaceutical, financial, food service, retail, consumer goods, you name it."
BNC's ratings have been inconsistent, but the overall trend line is good.
"We are still finding the audience, and the audience is still finding us," Hair said. "But we are seeing really strong performance, especially on days when you have stories that either disproportionately affect or interest the Black community."
As of late summer, BNC had just started its first paid multimedia campaign, having previously relied on earned media generated by an agency, Rogers & Cowan, and the work of Tim Buckman, its vice president for integrated communications.
BNC maintains close relationships with historically Black colleges and universities around the country and especially with Florida A&M in Tallahassee.
"I very much view BNC as a teaching hospital," Hair said. "We bring in interns every semester, and the majority come from HBCUs. They recognize that this is a wonderful opportunity for their students to get into a national news network and actually perform the jobs."
Hair sings the praises of the journalism school at FAMU.
"They really prepare their students for the practical world," he said. "When kids from FAMU come into BNC, the learning curve is not as steep as it is for kids from other colleges."
Its strengthening Tallahassee ties notwithstanding, is it possible that BNC's explosive success will lead the channel to establish a new headquarters in a bigger population center?
Hair has identified Atlanta as a city that might become home to a larger BNC presence in the future. Already, BNC personalities accounting for five hours of broadcast time per day operate from studios in their Atlanta homes, Buckman said.
Buckman added that BNC has experienced some difficulty in finding the production personnel it needs in Tallahassee.
"But no decision to leave has been made, and if it were to come, it would be two to three years down the line," he said. "Even then, the change would be gradual, one show or one studio at a time. In any event, we will have a continuing presence in Tallahassee. It's Florida's capital, and a lot of news comes out of the state."