A Blank Canvas
A port, a railroad and plenty of infrastructure give Gulf County a boost in its drive to grow the local economy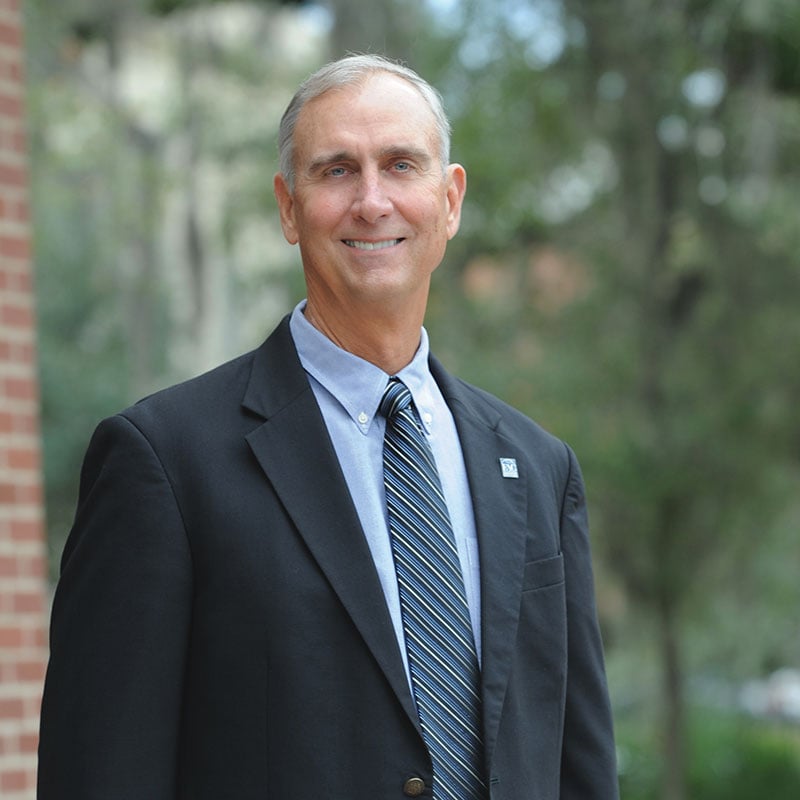 Chris Holley is one of the state's most experienced county administrators, with more than 30 years' experience working as a manager and administrator for some of Florida's fastest-growing counties.
In 2015, he retired from the Florida Association of Counties after serving as executive director for 10 years. But retirement didn't last long, as he recently took up a role with the Gulf County Economic Coalition, trying to spur development in the tiny county of about 15,800 people.
We talked to him about his new role and what he sees as the future for Gulf County.
850: What is your job? How would you describe it?
CH: I'm the executive director of the Gulf County Economic Coalition. Economic development in our county has evolved. The county commission took it over a couple of years ago. When I retired from the Florida Association of Counties and came down to Port St. Joe, the county manager asked if I would help get the ball rolling for the office. That's what I've been doing for the last year.
850: You moved from the Association of Counties, where you had to worry about all the counties and the policies that might affect them, to worrying about one. How would you describe that change?
CH: Both opportunities were great. I loved working on a statewide basis. Florida is a very diverse state, with large, medium and small counties and communities. The legislative policy aspect of the job was a big challenge, and 10 years of doing it was probably long enough.
I'd been a county administrator for several other counties — I was in Okaloosa for 13 years. I enjoy county work. You're involved more in the community. You're very close to what you're trying to do. Statewide is statewide, but county, you touch and feel things a lot easier. Gulf is just a unique situation because of its history as a port town and the assets that are here, and I thought it was a neat opportunity to help.
850: How would you describe the economic health of the area?
CH: Well, we have evolved. If you know the geography, we have Cape San Blas that protects a natural harbor, and because of that, Port St. Joe has been a port town since the mid-1800s. It was a thriving cotton import and export entity for many years, and then The St. Joe Company operated a paper mill for some 60 years. There were close to a thousand jobs associated with the mill and the other businesses that spun off of the mill. When that closed, it was a very dramatic change in the economy and the community.
The good news is that, like a lot of coastal areas in Florida, tourism has been growing slowly over a 20-year period, and we enjoy the same summer visitors you have in Panama City and Destin and Pensacola and other communities off to the west. Tourism is thriving, and we hope it stays that way.
But I think what the oil spill showed us all is that diversifying the economy provides for a much healthier economy. And tourism jobs are not the most high-paying jobs. The community wants other businesses to come here. They want the port to function and to employ people. They want an economy that is diversified and not solely based on tourism.
850: There are some challenges in the area — the oyster decline in the past few years, for one. Unemployment is fairly low, but 23 percent of residents are living in poverty and only 14.7 percent have a bachelor's degree or higher. How do you deal with some of those challenges when you're trying to convince businesses to come to Gulf County?
CH: Workforce is certainly a challenge. Workforce housing is a challenge. You hope that businesses that come here will not only hire current folks but also bring in outside folks and allow our community to grow.
We want to develop workforce training programs in partnership with the education community — the community college that we have here and workforce programs that serve us. We want to be ready when a company comes to say we can help recruit and train a workforce here.
The port has some infrastructure needs. The channel needs to be dredged. We have permits and funds to bid that project out (and) hopefully, we will dredge the channel in the next five years or so. We're also fortunate that we're served by the A&M railway — the rail that runs from Gadsden County connects to the CSX line that goes east and west and connects down to our port. There's some repair work that needs to be done on the rail, and we're working with our state partners to obtain some grants to repair it.
There's a lot of site work that goes on in economic development: identifying sites, site readiness issues, how and where the utilities are located. We got a grant from the Duke Foundation for $26,000 to do site work, identifying some 20 sites in our county that have potential for development. We obtained a technical assistance grant through (the Florida) Department of Economic Opportunity for $65,000 for the coming year to do an intermodal strategic plan that connects the port by rail with the airport in Franklin County and Apalachicola and (reaches) up through Liberty and Gadsden counties to the interstate system and the CSX rail line. The region will benefit greatly from an operating port facility.
It will help all those counties north of us — Washington, Holmes, Liberty, Jackson, Gadsden — if we can get businesses along that intermodal system, along the rail. That's our goal.
850: Is there any type of business you'd like to target as you start going through these projects, so you can say to a business, "Hey, you should come here"?
CH: We're very sensitive to the quality of life that we have here. We don't want industry that would deteriorate our current environment. That's foremost. A lot of what we're entertaining right now — and this is our history — is related to timber and wood products. We have a lot of timber in our region — that's why the paper mill was here. We've had interest from wood chip folks and folks who convert wood to energy or to petroleum or plastics. Wood is a very important resource, and a lot of technology has gone into converting it into products that used to be produced in other ways that weren't so environmentally friendly.
850: Would you say that's something that makes the area unique in Florida? Is that part of the pitch?
CH: I'm not an expert on all parts of Florida, especially as it relates to timber. But it's one of the things that Florida has a lot of. There are mills located along that rail that I mentioned. Yes, it's an advantage. There's a paper mill over in Panama City. We think it's a great opportunity for folks who have products that use wood as a resource to locate here, and we're actively trying to recruit those folks.
850: Panama City has been described as one of the fastest-growing metro areas in the country. What impact might that have on Gulf County, since you're so close?
CH: A lot. Panama City is our neighbor, and a lot of people work over there and commute. You have Tyndall Air Force Base. That's another asset for workforce — retirees coming out of the military — that we're trying to focus on. We have some road projects that would enhance the net worth. Gulf Coast Highway would connect us up to the airport, and you would not have to travel on Highway 98. Anyone who travels on 98 these days knows it gets pretty congested.
We get a lot of folks that are coming over here looking for real estate that used to go to Bay and Walton counties, but it's getting a little too crowded. So folks who like the smaller getaways — we're getting more and more interest from them. Rising tides float all ships. So as Bay County grows and develops, the benefit to Gulf County is there.
Both counties have to be careful how they manage growth as we go forward. But we're excited about things that are happening in and around the (Northwest Florida Beaches International) airport. The airport is expanding over there, and we're trying to get our port up and running. We're strategically located along the Gulf in terms of the new, expanded Panama Canal, and port activity and shipping seems to be growing.
We've got this unique situation where all of the infrastructure that was here for the mill is still here. Duke Energy has power grids that are still here from the mill operation. There were gas lines brought in; there's a freshwater canal that was dug from the Chipola River down to the port; massive sewer capacity was built. So lots of infrastructure challenges that smaller communities have were built here 30, 40, 50 years ago and still remain. So that's the unique opportunity. The infrastructure is in place, and it's kind of a blank canvas.