2015 Year in Review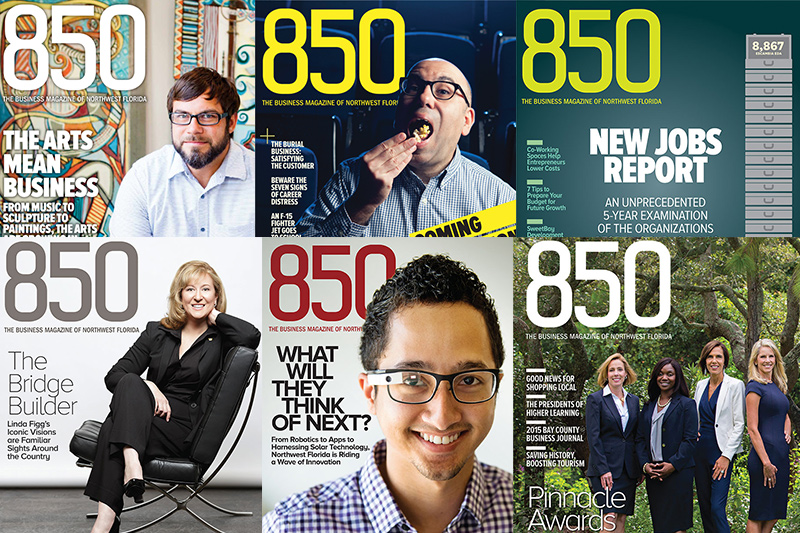 In 2015 we reported on business trends, provided tips for navigating successful companies, chatted with inspiring entrepreneurs and recognized ten influential women. 2016 holds endless potential, but before you can plan out where you're going – it's important to take a look at where you've been.
In the December/January issue we examined how the arts are thriving in the business world. That's right – local artists are making it big in their own shops and in national marketing campaigns. In honor of all those New Year's resolutions out there, we provided 14 tips to boost office morale.
Lights, camera, action! The February/March issue brought to light filming initiatives for Florida, encouraging film producers to flock to the Sunshine State. Also in this issue we discussed the seven signs of career distress and solutions to help a struggling employee.
The April/May issue was heavy on research and statistics with the inclusion of a five-year examination of job growth in Northwest Florida.
Linda Figg graced our June/July cover and shared her secrets to success and love of connectivity – especially when it comes to building bridges! 50 years is quite the accomplishment in the business world, so in this issue we recognized companies throughout Northwest Florida that have been in business for 50 or more years.
We raised a glass to the August/September issue with a feature on local wineries. In a story on technology and manufacturing we looked at how modern day masterpieces are composed of code as opposed to paint.
Ten women of outstanding character, admirable leadership and active community involvement were honored with a feature story on the 2015 Pinnacle Awards in the October/November edition. After that, the presidents of Florida State University, Florida A&M University and University of West Florida filled us in on the many wonderful happenings of their respective universities.
As 2015 comes to a close we reflect on the success that has been achieved. This success could not have been obtained without our loyal readers. We have you to thank!