The dirty truth about eating on the clock
Help your workers avoid the unhealthy "snack trap" habit.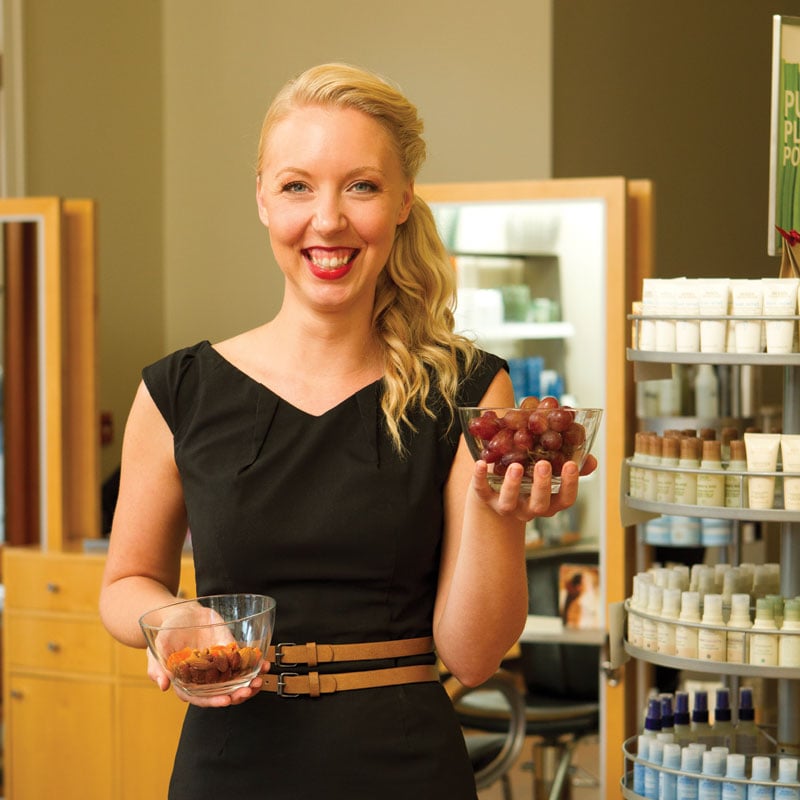 It's a sneaky little trap that many of us fall into. We clock in for the day, head over to our desk, log in to our computer … and never leave. We bypass our breaks and lunch — opting instead to eat right at our workstation. We think we are being smart and more productive, but we are really just robbing ourselves of precious downtime.
In the fast-paced world we live in, seconds count and minutes are something we just can't waste, so we pack as much into our day as we possibly can, and we think, "What better way to do that than to work through lunch?"
According to the American Dietetic Association and ConAgra Foods Foundation, some 70 percent of Americans eat at their desk several times a week, but nutritionist Amy Magnuson, Ph.D., R.D., L.D./N., says doing so can easily lead us to consume more than we need.
It's also likely that mindless eating can occur while we are focused on something other than what we are eating, Magnuson explained.
For instance, when multi-tasking you want just a little something to munch on. So you grab a bag of — insert your favorite carb here — and before you know it, the entire thing is gone! Sound familiar? If so, you're not alone. Almost all of us are guilty of it from time to time, but today more and more people are eating mindlessly. The reason? You guessed it — we're too busy working to take a snack break. That may seem like a good idea at the time, but Magnuson, the Health Promotion director at Florida State University, says breaks are an essential part of our day.
"A lunch break is a great time to get away from the desk or office and allow your body and mind time to rejuvenate. It is also a great time to nourish and refuel your body in a calm and relaxed environment," Magnuson said.
That relaxing environment can be anything from the coffee shop down the street to the café downtown. It doesn't matter where you go, the goal is to leave your workplace, enjoy some nutritious food and relax your mind.

Relaxing
The goal of a break, be it for lunch or for a snack, is to give yourself a reprieve of sorts from the stresses of the day and to refuel, and psychologist Larry Kubiak says walking is a great way to accomplish that.
"When you're walking, you're getting much better blood flow to the brain," Kubiak said.
As the director of psychological services at Tallahassee Memorial HealthCare, Kubiak sees patients with a number of different issues, including depression, which can be linked to too much time inside.
"There is a variation of depression called seasonal affective disorder. When people are not getting enough sunlight, they can suffer from this form of depression," he said.
SAD, as it is more commonly known, can increase the amount of stress in one's life and affect eating and snacking habits, though not always in a negative way.
"If you're sitting there eating carrots and celery that's one thing, if you're eating Snickers bars all day … food can go a long way to dealing with the stress of our day," he said.
Those days can be especially long for the men and women in the service industries, something the folks at VIVO Spa Salon in Rosemary Beach know all too well.
The sixteen employees at VIVO regularly work at least nine hours a day catering to the needs of others, and that leaves them little time to care for themselves. Owner Erin Jordan admits that Rosemary Beach doesn't have a lot when it comes to fast food, so in the past, when her employees did have a few minutes, they often ran to the gas station, grabbing a sugary soda and less than healthy snack.
That's one of the reasons Jordan and her co-owner hubby Michael started purchasing snacks to stock the employee break room.
"We always have string cheese and we always have goldfish crackers, and for our diabetics, we have juice and these cinnamon crackers," Jordan said. "We're really trying to discourage pop."
Jordan said colas were a staple at VIVO Spa Salon, but they stopped purchasing them and are now encouraging their employees to drink more water and juice.
Our Daily Diet
"A well-balanced meal consists of at least three food groups that usually include a grain, a protein and a fruit or vegetable," said Magnuson. "We may also want to include a calcium-rich dairy source with our meal."
When it comes to snacks, Magnuson says to eat up. They can be the perfect time to make up for what we didn't get in our meal, but she suggests keeping the average snack to 250 to 300 calories.
Sadly, many of us gravitate toward comfort foods instead of healthier fruits and veggies — and because we mindlessly snack at our desk, we consume even more of the empty calories that our bodies just don't need.
According to WebMD, people who snack at their desks tend to eat quickly and take in extra calories. To combat the trend, the site suggests planning ahead and keeping some healthy treats in your office or desk.
Most offices have a vending machine or two lingering in the hallway, but the snacks are usually less than nutritious. Recently, though, better choices have made their way into the office via the big snackers.
"Healthy vending machines are gaining in popularity across the nation with each item in the vending machine meeting the nutritional requirements of moderate sugar, sodium and fat," Magnuson said.
If your place of employment does not have these healthier options, Kubiak says, it's up to you to help change it.
"If employees band together and ask for healthier choices, companies may be willing to comply," he said.
Improving Your Bottom Line
"Employees want to know what makes your business special — what you can offer them support-wise. Something beyond the paycheck," Jordan said.
That's why she gladly dips into her own pocket to buy the snacks and offers them free-of-charge to all employees.
"It's not costly, and I learned that probably within two months of owning the business," Jordan said. "For me, it was better to have these things there. Because it was a treat and it kept them at work, so my productivity was better."
Jordan said she saw an increase of more than 10 percent once she started supplying snacks at work, proving to her that the little things can make a big difference.
"We are a commission field, so before what we had was people who wanted to work 20 hours a week. They could do that and go home. Now, we have people who want to work more hours and longer hours."
Then, of course, there's health care. Exact costs vary with factors like company, plan and the number of people being covered. But a new study by the Kaiser Family Foundation found the average annual premium for family coverage through an employer rose to $15,073 last year. That's a nine percent increase over 2010.
Kubiak says that's reason enough to do whatever you can as a company to help your employees live and eat healthy.
"It's very important to take a proactive approach," he said.
According to Kubiak, that means recognizing that if employees are healthy, working out, rested and eating healthy, they're going to stay at work and be more productive. Which, when push comes to shove, is the goal for any company because productivity affects the bottom line … in more ways than one.