Southeastern Fisheries Association's Bob Jones Is At Last Pulling in His Oars
Exploring the career that has supported the livelihoods of many and maintained the preservation of a culture.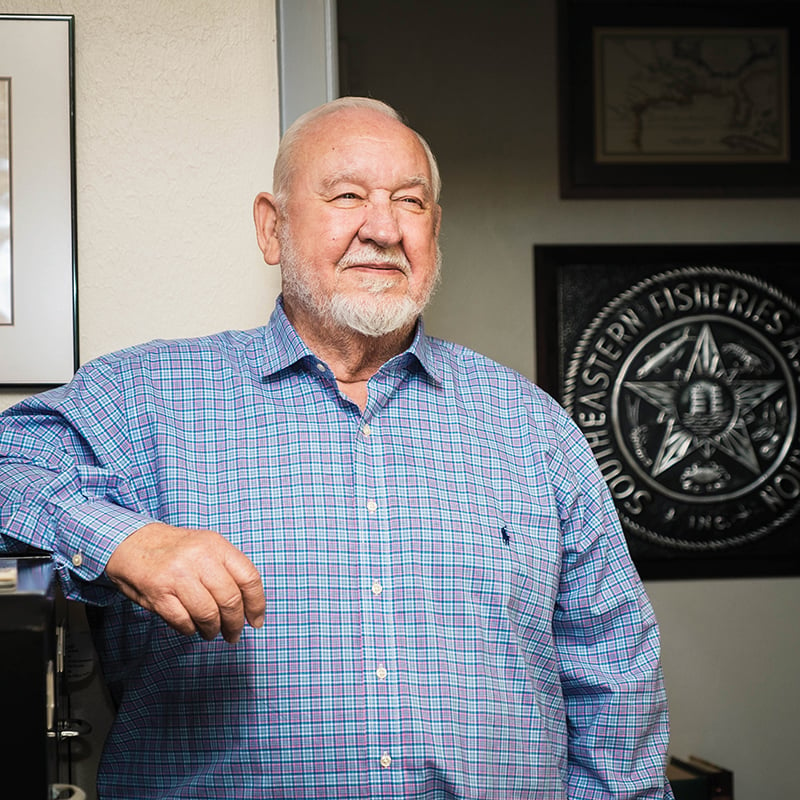 In the summer edition of 850 Magazine, editor Steve Bornhoft profiled Raffield Fisheries, a Gulf County business that for generations has farmed the Gulf of Mexico, harvesting food fishes and baitfish.
Here, he explores the career of Bob Jones, the longtime director of the Southeastern Fisheries Association, established by commercial fishing interests who recognized that they needed representation by a strong advocate.
For 54 years, Jones has filled that role with a voice that is today a little breathier than it used to be, but always has been as sweet as fresh water and steadfast in support of livelihoods and a culture he is committed to preserving.
Bob Jones, his brother, his sister and his mother moved into a 12 x 16 cabin at a fish camp in Vilano Beach, Florida, near St. Augustine, in 1948. For the family, the place was a relative palace.
Jones' parents had divorced four years earlier and, homeless, the family essentially free ranged until the camp's owner, P.J. Manucy, a commercial fisherman and shrimper, permitted the Joneses to indefinitely occupy a cabin usually reserved for weekend anglers.
Manucy was a savior and a protector and would soon emerge as a hero.
Mary Frances Jones had often sternly demanded that Bob's baby sister, Lessie, never go out on the dock at the camp without an adult escort. But the dock, as most things forbidden do, became irresistible. Lessie, unaccompanied, fell into the dark, moving waters of the North River.
Jones, 13 at the time, was cleaning up a room where outboard motors were kept and did not see Lessie tumble from the dock, but he caught in the corner of his eye Manucy sprinting toward the river while trying to remove his wristwatch.
"I saw (Manucy) dive into the water and come up with a very wet, scared, lucky and sweet Lesta Ann Jones in his arms," Jones has written in his memoir, Minorcan Gumbo for the Soul. "She would have drowned if not for P.J. Manucy. God held her in the palms of his hands that day through the strong arms of a man. It was a miracle."
Jones would remain forever grateful for the fish camp owner's courageous act and, decades later, reflecting on his career, concluded that he was provided with a path to follow, one that enabled him to be helpful to commercial fishermen like Manucy.
"That was intervention," Jones said recently. "Of course it was."
Even if the path were winding.
To be sure, Jones never would have expected it to go through Oklahoma and Texas.
He always has been the kind of individual that most any organization would love to have as a promoter of its interests.
He is affable, likable, generous, kind, genuine, grateful, loyal, a good laugher and large without being imposing. He is a one-time bricklayer skilled at building relationships.
And, he says about himself, "I am spiritually enchanted."
It was not surprising, then, when Jones quickly rose to prominence as a member of the Jaycees in St. Augustine. In 1961, he was vice president and in charge of documenting the club's projects for the state organization.
In truth, Jones dictated reports while his wife, Mindy, did the typing on a manual Royal typewriter removed from a carrying case.
A year later, Jones was president when the St. Augustine Jaycees were named the best club in Florida and one of the top 10 clubs in the country. By way of recognition, Jones was awarded two prizes: a trip to the Jaycees' convention in Las Vegas and a one-year assignment in Tulsa as manager of internal affairs for the Jaycees' national organization.
Jones, his wife and their four children left St. Augustine, headed for flyover country in a 1959 Volkswagen microbus.
He likely would have worked for the Jaycees for decades were it not for the organization's practice of regularly turning over its staff positions. His Tulsa duties complete, Jones and family moved to Houston where he managed a motel — for a month.
"The Congress Inn on Katy Road. Hardest job I ever had," Jones said. "Seven days a week."
Try as they might, Jones and his wife seemed never to get off the motel property. One night, they did leave, along with their children, to go to a nearby drive-in movie theater, but they couldn't figure out how to exit the interstate and get there.
"We stopped and asked for directions, and a few minutes later, we were sailing right past the same service station again," Jones recalled.
Jones was in a place where he did not belong and his father-in-law Charlie Usina, a powerful Florida legislator, knew it. Employing his status and position, he saw to it that Jones was elected "executive secretary" of a 12-year-old industry organization, the Southeastern Fisheries Association, on June 20, 1964.
Association board member C.C. Rice required some convincing on that day. He couldn't picture a Jaycees-type walking docks and visiting fish houses.
"You sure you're not too good for that?" Rice wanted to know.
Board chairman Johnny Salvador of St. Augustine intervened.
"Mr. Salvador had known me as a kid, football player, U.S. Marine and mason," Jones said. "He told my detractor that I had no problem getting my hands dirty, and Rice responded by chomping down on his big cigar, squinting his eyes and declaring, 'Damn it, then, I move we hire the boy.' "
The motion passed unanimously. Jones was brought on at an annual salary of $7,500 and was extended $250 with which to move his family to Tallahassee.
"They took a chance on an unknown quantity," Jones said. "I knew something about membership organizations, but I knew nothing about politics. My father-in-law was my mentor."
The gamble paid off. Fifty-four years later, Jones remains on the job.
Soon, however, he will embark on a farewell tour sure to bring to his mind his first trip around the state when, as the association's new staffer, he visited SFA members in coat, tie and hard shoes, a practice he soon abandoned. Jones, 85, announced in May that he has decided to retire by the end of 2018.
"Turning loose is a paradox," Jones has confided to friends. "Time has taken its toll on my physical ability, but my mind is 21 or so. That is both sweet and challenging."
With assistance from the National Fisheries Institute, the SFA was formed in 1952, largely by men engaged in trying to restart their businesses following wartime military duty. They recognized that they needed a voice and marketing expertise.
Tracing the coastline
SFA president-elect Heber Bell gave greenhorn Jones the membership book.
"Start in Pensacola and work around the state and when you get back, we'll have a meeting," he instructed the new secretary.
In Pensacola, Jones met Clyde Richbourg, who had served as a machine gunner in the Pacific during World War II, at the American Seafood Co., and he made the acquaintance of the Pattis, they of the iconic seafood market and restaurant.
He met restaurateur Dewey Destin's father. Then it was on to Apalachicola and Cedar Key and around the peninsula.
"Everywhere I went, members took me under their wing and helped me get oriented," Jones said.
"My first year with the association, I spent 200 days on the road, I'm sure. And we had four kids. A year later, we had our fifth."
Within 12 months or so on the job, Jones had become comfortable with his role, had opted for comfortable clothes and "the members were letting me know that they appreciated what I was doing."
Jones had been admitted to a fraternity made up of "guys who are tough."
"You have to accept them as they are," Jones learned.
"They really don't want help from anybody. They just want to go out and catch fish and take it to market and support their families. Seafood businesses have their marketers and salespeople and back office folks, but the men who spend their time on the water, they really will tell you like it is."
Throughout its history, the SFA has served to "protect and enhance the commercial fishing industry through all legal means possible." Its members include not just fishermen, but, Jones pointed out, "dealers, restaurants, truckers, suppliers, importers, exporters, shrimp farmers and other aquaculture operations. If you are in the business of fish or fishing, we are there with you."
Beginning well before Jones' first day on the job, the commercial fishing industry had been fending off foes bent on curtailing their operations.
"In the United States, we have been regulated since 1928," Jones said. "Way back when, Broward County may have been the first jurisdiction in Florida to ban net fishing.
But, historically, nets have been controversial for centuries. In 1215 in England, right after the signing of the Magna Carta, hook-and-line fishermen decided they didn't like seiners and were burning their nets."
Seven hundred and forty-nine years later, in Tallahassee, Florida, Jones was tasked by the SFA's board of directors with three challenges:
1. Start a marketing program.
2. Establish the Tortugas as a shrimp nursery.
3. Prevent state and federal officials from making king mackerel and Spanish mackerel gamefish reserved for sport fishermen only.
"Marketing was the easy one," Jones said, "because I could control that. The others involved a lot of moving parts."
The SFA's Tortugas initiative sought to prohibit trawling in 3 million acres of federal waters off Southwest Florida and the Florida Keys.
"Everyone knew that area was a shrimp nursery," Jones said. "There were some folks used to catching little shrimp (in what would become the sanctuary) for sale to canning operations. But we represented offshore shrimpers who wanted the shrimp to have a chance to mature so that they would become more valuable.
"You can't have it both ways. You can catch them when they're little or when they are larger. You don't have year classes. They only live 13 months."
The sanctuary remains in place today.
The effort in Florida to ban certain saltwater species from commercial harvest — speckled trout, redfish, king mackerel and Spanish mackerel — was just getting started as Jones was getting started at SFA.
Today, the commercial sector continues to receive decent allotments of kingfish and Spanish, but only negligible or no amounts of trout and redfish.
"So, if you don't have a boat, you don't get any, either. Many people don't look at us as food providers," Jones said.
"They see us as competition for sport fishermen, but we are perfectly willing to share. In my final years, I want to find out when it became legal to take all of the fish and give them to one side.
"This concept of 'gamefish' is not in federal law, and our Florida constitution says that the fish belong to all the people. But what happens is that regulation by regulation, political deal by political deal, the commercial industry's share of fish erodes."
Some may argue that officials are not favoring one side versus the other, but are instead managing fish populations by regulating harvesting methods. Jones doesn't buy that rationale.
"It's still not enough to set aside an entire species of fish for one component of the overall fishing effort and to prohibit sale of that fish," he contends.
Sea-changing statutes
Two laws have affected commercial fishing operations in Florida in Jones' lifetime more than any others.
The Magnuson-Stevens Act of 1976 ultimately established regional fishery management councils and a 200-mile Exclusive Economic Zone (EEZ), with the inner boundary being the seaward boundary of the coastal states.
The act provided for management of fish and other species in the EEZ under plans drawn up by the regional councils and reviewed and approved by the secretary of commerce.
And it Americanized fishing by providing for regulation of foreign fishing in the management zone based on international fishing agreements and vessel fishing permits.
"The Magnuson Act succeeded in keeping the Russians off of New England and Alaska, but with the stroke of a pen, distant-water shrimping fleets instantly became overcapitalized in Florida," Jones said.
"Our shrimpers fished in Mexico, Honduras and Costa Rica. We harvested lobsters in the Caribbean and grouper off South America. Now, all of our boats had to come back and fish in the Gulf of Mexico and the Southeast. The fleet numbered 6,000 shrimp boats in 1983; it's down to about 1,900 now."
"We concentrated all that fishing power in the Gulf, and meanwhile, the resource hadn't gotten any bigger. The act helped Alaska, but the New Englanders overfished cod despite the legislation. Florida got screwed, as it does most of the time. We didn't have 200 miles between our state and the Bahamas."
Then, in 1994, Florida voters participating in a statewide election and endorsed a constitutional amendment that effectively killed gillnet fishing in the state.
That, for Jones, was the biggest donnybrook of his career, pitting a Goliath in the form of sport-fishing interests against a David, the commercial industry.
"We were overmatched," Jones concedes with reference to the money and power of the pro-ban Coastal Conservation Association of Florida and the influence of Karl Wickstrom, the publisher of Florida Sportsman magazine.
"It happened so fast, and it went into effect quickly and its impacts were immediate," Jones said.
"Livelihoods went away, and the truth is that the ban wasn't needed. I don't believe the sport fishermen are catching any more fish today than they did prior to the ban. And they thought that they were going be in heaven. Most people don't know how to fish. In St. Augustine, there are maybe 10 families who really know how to catch trout and redfish. They know where to go, what time of day, and how to factor in the tides and the wind. Other people will go out with some live shrimp and try to catch a fish in the same spots those families favor. And when they don't get any bites, they figure that the damn nets got all the fish."
Jones regrets that he couldn't do more to prevent the destruction of estuaries.
It sickens him, he said, to think about development filling in shallows at Boca Ciega Bay in St. Petersburg.
"That was probably as productive an estuary for trout, redfish and others species that you could hope to have and they built all those houses and attracted a bunch of people from New York and then all that water became theirs. They didn't want to look out from their waterfront homes and see a fisherman with a net. We were dismissed as rowdy and intoxicated, and we lost access to all those canals."
Going forward, Jones plans to remain active, educating people about seafood safety issues and the prevalence of seafood fraud — the deliberate mislabeling of basa catfish from the Mekong Delta in Vietnam as grouper fillets, for example.
"Know your vendor, and don't hesitate to ask him where his fish comes from," Jones advises.
"If a few people ask him, he will think twice about misrepresenting what he's selling. Sadly, the fines are insignificant. Sell 10,000 pounds of basa as grouper and you might be fined $500. That's just the cost of doing business. You pay the fine and move on. We need basa — not everyone can afford stone crab claws — but we need honesty, too, so that the fisherman who is legitimately taking grouper to market can get a fair price for his product."
He can't compete with "grouper fillets" at $4.99 a pound.
Jones does not fear what is at the end of his earthly lifeline. But, as he has written, he prefers not knowing precisely when he will get spooled.
"Not knowing gives me strength to continue fighting the bad and working for the good," Jones wrote in Minorcan Gumbo.
"Not knowing keeps alive the myth that I will live forever, but that is not so, of course."
We can hope for Jones' sake that the end will beget a beginning, and he will be greeted upstairs by a welcoming party with iced, succulent white shrimp just like the ones that P.J. Manucy, aboard his working fishing vessel, the Hoonya, used to unload at Salvador's Seafood Market in St. Augustine.