Okaloosa County Keeps Flying High
Military-related spending pours billions into the region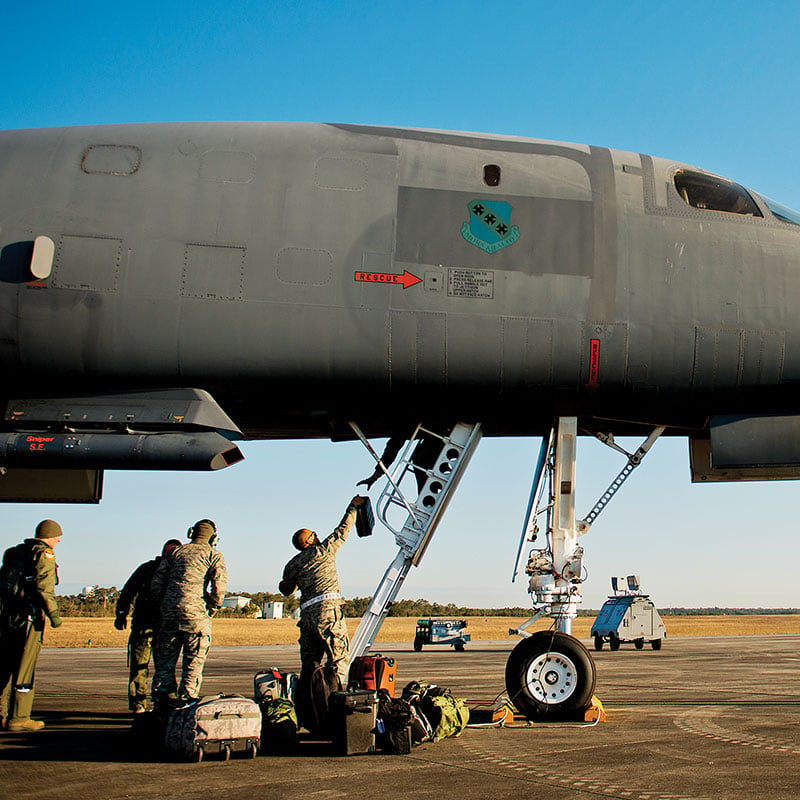 Camouflage isn't the only thing green about the military in Okaloosa County. National defense dollars flow into nearly every corner of the local economy, accounting for about two-thirds of production and spending in Okaloosa.
The money comes in through Eglin Air Force Base and the complex of defense contractors that surround it, as well as nearby military installations and a community of military retirees who call the area home. Together, they're responsible for $7.5 billion in economic impact.
Military realignments 10 years ago contributed in part to that robust defense spending in Okaloosa. Now growth is leveling off and the Department of Defense is making additional budget cuts, so military spending is expected to decline.
However, local economic leaders expect the losses to be mitigated somewhat by the nature of the military mission at Eglin and by growth in other industries such as aeronautics.
"It's not going to feel like it did a couple of years ago," said Rick Harper, an economist with the University of West Florida who has studied defense spending in Florida. "I don't see anything in the near-to-medium future that would threaten the vitality of military spending in Okaloosa County."
Thousands of Airmen, Soldiers and Sailors
The military has a huge presence in the Florida Panhandle and nowhere more so than in Okaloosa County.
Eglin Air Force Base is the largest military installation in the United States and is home to nearly 10,000 service members, 4,000 civilian employees and nearly 3,000 contractors. The base covers more than 640 square miles, according to the Department of Defense.
Among the units at Eglin are the Air Force's 96th Test Wing and 33rd Fighter Wing (Joint Strike Fighter training), the Army's 7th Special Forces Group and 6th Ranger Training Battalion and the Navy's Explosive Ordnance Disposal school.
Next door to Eglin is Hurlburt Field, where the 1st Special Operations Wing is based. According to the Department of Defense, there are another 8,000 service members and 2,000 civilian employees at Hurlburt.
In addition to the two major Air Force installations, Okaloosa also serves as a base for the 870th Engineering Company of the Florida National Guard and U.S. Coast Guard Station Destin.
Spreading out from either side of Okaloosa, there are Navy installations in Escambia County just to the west and Air Force and Navy bases in Bay County to the east.
"You add all that up and you have one heck of a center of gravity for military activity," said Sal Nodjomian, retired commander of the 96th Test Wing, current member of the Niceville City Council and executive vice president of Matrix Design Group, an engineering firm that does work for the DoD.
Drawn to the Bases
Nodjomian said the military missions associated with Eglin and nearby bases are incredibly diverse, from air and ground training to high-tech and research to special operations. That, and the sheer size of the military presence, has helped build a robust community of defense contractors in the county.
There are more than 300 defense contractors located in Okaloosa County, including seven of the 10 largest in the country, according to Nathan Sparks, executive director of the Economic Development Council of Okaloosa County.
They include Boeing, Lockheed Martin and L-3 Crestview Aerospace, with a combined 2,000 employees between them. In fact, five of the 10 top employers in Okaloosa County are major defense-related businesses working on DoD projects.
Nodjomian said there are three factors that draw the defense industry to Okaloosa County: proximity to the military units that need their products and services, the low cost of doing business in a military-friendly state and the labor pool.
He said many service members — like him — choose to spend the last years of their careers in the Panhandle and then stay on after retirement because of the quality of life. That makes for a "fabulous labor pool" from which defense contractors can easily draw.
Total number of military and military-related jobs in Okaloosa County: more than 70,000, according to Sparks, with the EDC.
Dollars Follow the Military
The economic impact of all that defense activity is enormous.
There is the direct influx of Department of Defense dollars, the money spent on paying salaries to service members and civilian employees, paying out retirement and disability benefits to veterans living in Okaloosa, and buying supplies and services from local businesses and military contractors.
In 2011, that alone amounted to $2.9 billion, according to a report by the Haas Center for Business Research at the University of West Florida.
The lion's share — $1.2 billion — went to procurement, which could be everything from purchasing light bulbs for the base to paying for parts for the F-35 fighter. Another $884 million went to pay service members and civilians. And $883 million went to retirees and disabled vets.
But that direct money is only part of the story.
Those 70,000 service members, civilian workers and defense contractor employees all need places to live, food to eat and all the incidentals of life like car repairs, home furnishings and entertainment. Most of the money they spend for those things goes into the Okaloosa economy.
There's also the dollar value of the goods produced for and because of the military by defense contractors and local businesses, as well as the dollar value of all the various services provided. Add to that items exported and imported into the county to meet military demands and investment dollars brought in because of the military.
Taken all together, it adds up to about $7.5 billion in gross regional product, or the total of goods and services provided in the county. That is roughly 65 percent of Okaloosa's total economy, according to the Haas Center report.
"Okaloosa is the most defense-dependent county in the state," said Harper, the UWF economist.
The amount of DoD money flowing into Okaloosa, and the higher wages of defense-related jobs has led the county to have much higher per-person incomes than neighboring Panama City or Pensacola, he said.
Eglin also extends into neighboring Walton County, but the military's impact there is significantly less, accounting for just 9 percent of Walton's economy, according to the Haas report.
Steve Jaeger, executive director of the Walton County Economic Development Alliance, attributes this to the fact that Walton is not a center for defense contractors and serves mainly as a bedroom community for Eglin.
"Okaloosa County is really where the jobs are stationed and headquartered," he said.
Decline in Spending
In 2005, the Department of Defense initiated the Base Realignment and Closure process. While military installations shrank and closed all across the country, Okaloosa County received great news: Eglin would grow.
The Army sent the 7th Special Forces group from Fort Bragg to Eglin, and the Air Force opened the Joint Strike Fighter program — training pilots to fly the new F-35 — at the base. The moves meant thousands of new military and civilian jobs.
That caused a rise in spending, both by DoD and by the newly arrived soldiers and airmen and their families.
But once the new units were settled in and the Air Force began phasing out the F-15 fighter, spending began to decline. The 2013 Haas Center report projected a decrease in military-related gross regional product to $6.9 billion by this year.
Additionally, government sequestration and proposed budget cuts have reduced Department of Defense spending in recent years.
Nodjomian said he can't put a dollar figure on the impact, but between the leveling off of BRAC-related spending and DoD-wide cuts he said it would be reasonable to think it has had an impact on Okaloosa. In fact, he said he's heard from other defense contractors that there has been a tightening effect locally.
Sparks, with the Okaloosa EDC, said he doesn't expect the budget contractions to have serious repercussions for Okaloosa.
While "it's a difficult environment" in terms of allowing an enterprise to plan future revenue growth, Okaloosa's defense-related businesses are in a good position because many of them are "tip of the spear" businesses supporting critical missions such as the F-35 and special operations.
They are still going to be a priority for DoD, he said.
Looking Outside of Defense
At the same time, the smart money is looking for ways to diversify.
Nodjomian said his engineering firm is doing well because it is heavily involved in other industries and doesn't have "all its eggs in the DoD basket." The key, he said, is staying flexible so your business can move between markets, for example from defense to municipal contracts.
Many local defense contractors are looking toward the aerospace market, Sparks said, particularly with Airbus about to begin production of its A320 in nearby Mobile. The plant likely will need support from local manufacturers.
Greg Britton, CEO of Fort Walton Machining, said he has made a deliberate effort to move away from reliance on DoD-related projects.
At one point, about 60 to 70 percent of his business was defense-related. He's gotten that down to about 50 percent, with a goal of reducing it another 10 percent.
"We've had to look at the commercial aerospace field, and oil and gas," he said, including potentially seeking to get involved with Airbus production.
But that's not necessarily the right direction for every defense-related business in Okaloosa, Britton said.
"There's no one-size-fits-all for business," he said.
---
Total Department of Defense direct expenditures in Okaloosa County in 2011
$1.2 billion for procurement of goods and services
$884 million for salaries to service members and civilian employees
$883 million for payments to retirees and disabled vets
Source: Haas Center, University of West Florida
Total military and civilian employees at Eglin Air Force and Hurlburt Field
17,557 military
6,006 civilian
Source: Department of Defense