Nano: From Sci-Fi to the Marketplace
FullScaleNANO aids businesses in getting their products to consumers.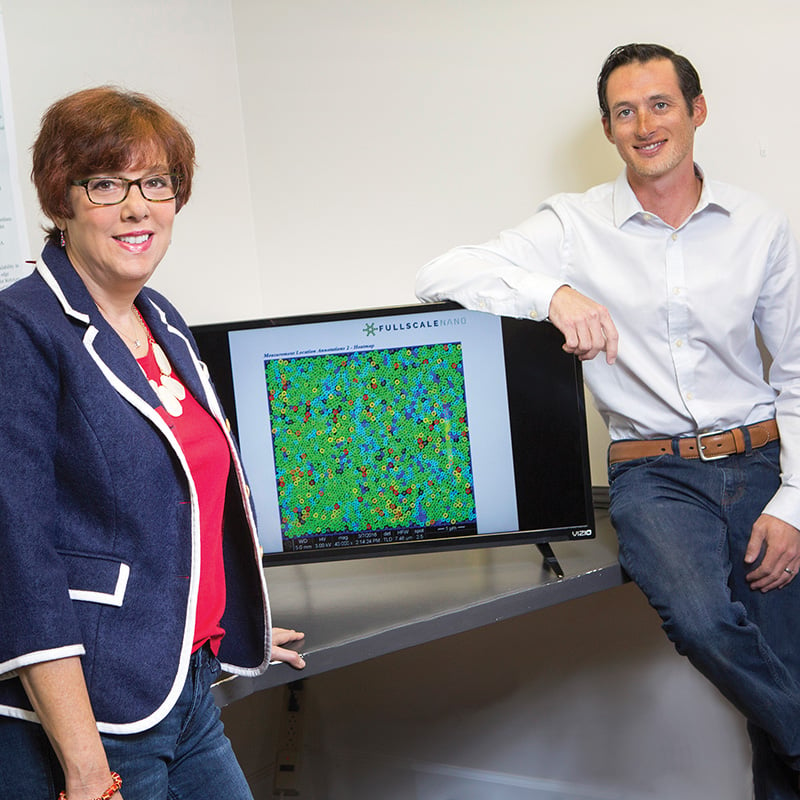 Nanos, tiny bits of matter so small they are invisible to the unaided eye, have long been fodder for sci-fi fantasies.
Consider the nanobots in Michael Crichton's "Prey," or the nanoprobes of the assimilating Borg in "Star Trek: Enterprise." And then there's the 2008 remake of the film, "The Day the Earth Stood Still," with the alien robot "GORT" composed of a swarm of nanobots shaped like bugs.
Nanotechnology has often been pretty dark in fiction. But in reality, nanoparticles are hardly diabolical. After all, who's afraid of Apple's iPod nano? About 1,000 times smaller than the width of the human hair, nanoparticles are being used in myriad ways, generating a growing buzz in the worlds of science, medicine, textiles and business.
Nanotechnology has a number of applications, from touch screens to monitoring bodily functions. Nanoparticles are used to make clothing more weather and stain resistant. They can make tennis rackets, shoes and paper stronger and lighter. And the technology is being used in medicine in the fields of biological and pharmaceutical research, surgery and therapeutics.
In Tallahassee, look no further than the Capital Cascades Bridge to see some benefits. According to the city's Blueprint 2000 program, the sustainable concrete "features a nanotechnology that is self-cleaning and removes pollution from the air."
Because nanomaterials are so tiny, it's a challenge to measure and characterize them, a process that is crucial when creating products. They can only be viewed by taking pictures with an electron microscope that contains a built-in camera.
That's where the Tallahassee-based firm FullScaleNANO steps in. The company can help businesses by capturing these images and analyzing the data. But it has also developed software called NanoMet, which provides detailed analysis of nanomaterials in a matter of seconds. FullScale NANO received a TechConnect Innovation Award for NanoMet at the TechConnect World Innovation Conference & Expo in May.
Users upload the nanoparticle imagery (captured by the electron microscope), guide the software, then run the program, according to the company. NanoMet quickly delivers histograms (bar graphs), detailed measurements and a thorough analysis of the images in a PDF report.
In the past, companies and researchers have had to measure these tiny nanomaterials with a manual process, using a virtual ruler, a time-consuming, generally unreliable task.
"Some of the properties of these nanomaterials, without the perfect size, shape and composition, won't work right," said Jeffrey Whalen, founder and director of FullScaleNANO, which "aims to measure and quantify something you can't see."
"It's like anything else outside of the nano world," he said. "If the concrete's the wrong composition, it's not going to work right. If wood is cut along the grain incorrectly, it's going to splinter. If dry wall is hung incorrectly, it could sag and crumble."
But in the nano world, he said, "the catch, and the difficulty, is that you can't see the nano materials. They're so small. It all looks like grey powder."
A member of the research faculty at the Florida State University Magnetic Field Laboratory, Whalen, who has a PhD in inorganic chemistry from FSU, laid the groundwork for FullScaleNANO in 2012. He slowly built a team, initially working with Tallahassee lawyer Richard Benham.
Whalen started out using electron microscopes to capture images of nanomaterials for clients but eventually sought out Chin-Hui Lee, a Georgia Tech professor in the School of Electrical and Computer Engineering, to develop NanoMet technology.
"He's a total rock star in this world," Whalen said of Lee, now part of the FullScaleNANO team.
In an effort to grow the business, Whalen worked on pitches at Domi Station, a startup incubator and co-working space, to attract investors. It gave Whalen "an environment where he could meet people he otherwise wouldn't meet," said Lucas Lindsey, Domi Station's executive director. "Jeff found an interesting niche. He's on the cutting edge of a great market."
Through Domi, Whalen met lawyer and lobbyist Jodi Chase, who was looking for another venture after selling her hedge fund consulting business.
Chase started out volunteering with FullScaleNANO but became such a believer in the firm that she joined the team and is now its CEO.
"It's just so cool," she said of FullScaleNANO. "It's a wide open field with a lot of growth potential and blue skies."
Chase said she had a "huge learning curve" when she came to the firm, but she has helped turn the company into more of a successful operation.
"We were so lucky to get Jodi on our team," Whalen said.
While this writer was there for an interview, Chase excitedly got off the phone announcing FullScaleNANO had signed on another new customer, Turners Falls Paper.
The Massachusetts paper mill, founded in 1839, wants to turn tiny nanomaterials into a bigger business venture.
Facing a diminished demand for fine paper, the firm decided to sell much of its core paper business and began collaborating with the University of Maine at Orono on nano-fiber paper applications.
Turners Falls Paper learned that when it used cellulose fiber on a nano scale "it had completely different properties," said Ken Schelling, the company's director of technology and innovation. "We're trying to use these properties to create new and different grades of paper."
When a client told Turners Falls Paper that its new paper using cellulose nanofibrils wasn't consistent, the company turned to FullScaleNANO.
"FullScaleNANO came in as a way of helping us determine what it is we're making," said Schelling. "It sounds funny, but you're talking about cellulose fibers on a measurement scale so small that you can't see them. It's also very, very difficult to measure them. We actually can't measure them without a scanning electron microscope."
Turners Falls Paper has been sending batches of their nanomaterials to FullScaleNANO, which captures images of the nanomaterial using the electron microscope, processes measurements and sends back reports analyzing the data.
Turners Falls Paper recently purchased FullScaleNANO's NanoMet software and trained in its use, but the company will continue to have the Tallahassee company take images, since it doesn't have an electron microscope. "This is an expensive, high-powered piece of equipment," said Rick Legros, Turners Falls Papers' safety and quality manager.
Using NanoMet, "we can assure ourselves, our customers and potential customers that the batches we make will be the same each time," said Legros, adding his company is investigating a wide variety of uses for paper and other products using cellulose nanofibrils.
"There's a whole market of people looking for paper that can either prevent water, moisture, gas, oil or grease from penetrating through it," Legros said. "So there's a big opportunity there."
The use of nanotechnology is limited only by imagination — and the ability to measure, Chase said.
The number of nanotechnology patents has grown continuously since the early 2000s, according to a study by law firm McDermott Will & Emery, which works with nanotech patent and applications filings. Between 2007 and 2012 the total number of U.S. patent applications, U.S. granted patents and published international patent applications grew from about 14,250 to almost 18,900, the study found.
In 2013, the Project on Emerging Nanotechnologies reported that the Nanotechnology Consumer Products Inventory contained 1,628 consumer products that have been introduced to the market since 2005, representing a 24 percent increase since the last update in 2010.
Chase noted that while there are lots of patent applications, products using nanotechnolgy are not getting to the market fast enough. "And so that's the space that FullScaleNANO wants to occupy. We want to help companies get these products to market faster. That's what it's all about. They're doing the discovery. We're helping them do the discovery better, faster."
Amanda Chown, head of FullScale NANO'S global support, demonstrated just how fast. She checked an image of nanomaterials and garnered 377 measurements in a minute. By hand, it would have taken at least an hour to do 40 measurements, she said.
FullScaleNANO has also developed a new product called Histogram on Demand, designed for smaller companies that need to measure fewer numbers of images and obtain a comprehensive report quickly. Histogram on Demand provides a pay-as-you-go system with a $150 charge per histogram.
Whalen sees an ever-expanding realm of possibilities for nanotechnology.
There are so many examples and some really get to the sci-fi part of it all," Whalen said. "There are nanoparticles, that when made small enough, will emit light. It sounds so crazy and so Star Trek, but you can go to your favorite appliance store and find new TV technology that uses nano crystal or quantum dot technology to provide vivid colors."
When you get matter so small, he said, "weird phenomena happen."
"And that's what makes nanotechnology such an exciting field. It's what makes our company have so much excitement," Whalen said. And it's what makes so many intrigued about nanotechnology, "an entire industry that's growing up and emerging both in the U.S. and worldwide."