How Panama City is Courting Growth
Developing the Future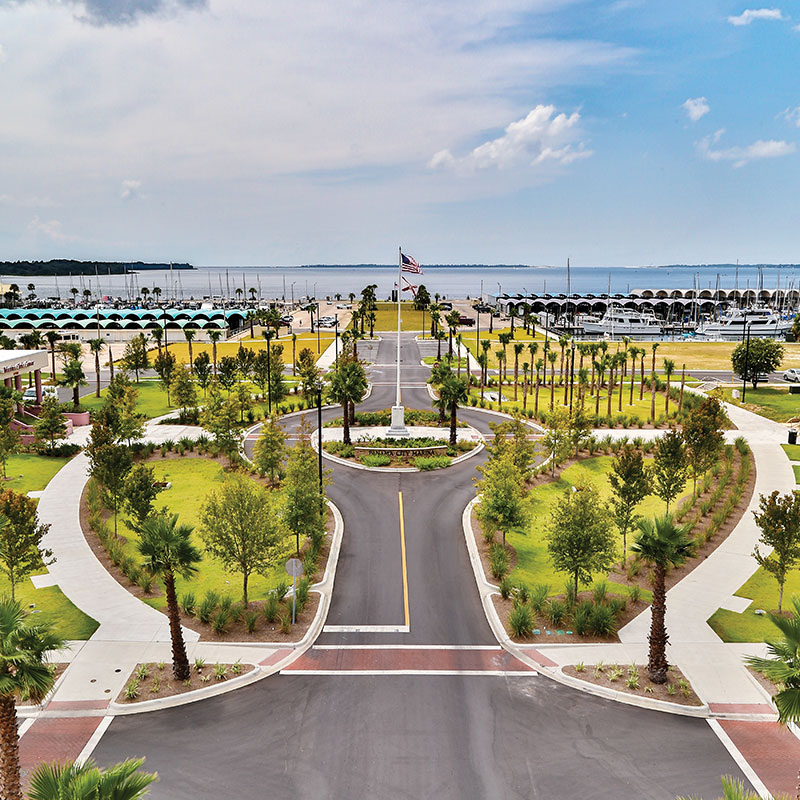 The Hathaway Bridge connects Panama City and Panama City Beach, stretching over the water where the North Bay meets Saint Andrew Bay. On the west side of the bridge, Panama City Beach sparkles, all sun and beach and new business. On the east side, Panama City is just waking up from spending a decade as, in the words of one government official, "a sleeping giant."
Mike Lane, director of Panama City's newly christened Planning and Economic Development Department, said that in the past, Panama City was notorious for being anti-growth. Now, it's a different story.
"People used to say, 'We're OK with being who we are, just being Panama City,' but you have to have a well-rounded community to keep functioning," Lane said. "Fortunately, our current city commission is very pro-growth."
Lane said the area has seen many retailers and businesses leave, and strategies to halt that exodus are being implemented. The area has more than double the population of its neighbor across Hathaway Bridge, but new development is key to getting businesses to stay in or relocate to the city.
One of those strategies is a partnership with the Bay County Economic Development Alliance (EDA), an organization that focuses on job creation to sustain a vibrant local economy. Working together, the city and the EDA are identifying city-owned parcels of land that may be attractive to developers, hoping to spur new growth and bring new jobs to the area.
Becca Hardin, EDA president, said site-selection companies may prefer to work with government-owned properties because if there is a good prospect, the project can bring in jobs and the city may be willing to negotiate the price per acre more freely.
"Once we've identified the right parcels of land, we'll market those opportunities to site-selection companies all over the world. Our ideal project would be a multistory office building that houses multiple companies and can promote innovation and creativity." – Becca Hardin, EDA president
Becca Hardin
Hardin said sites that are centrally located and support a good work/life environment are beneficial so that people can walk to work and retail establishments. Sites that overlook the water would add value from an office-community perspective, and sites that require minimal prep for development also offer good potential.
The City Commission in Panama City is on board with the initiative and is upping the ante by offering one of the best parcels the city owns: the current location of City Hall. The city is in the process of negotiating with a developer that has proposed a multi-function development for the 5 acres on the marina. Presentations to the city commission in July included a hotel and conference center with restaurants, retail spaces, rental and residential properties, a grocery store, structured parking, waterfront parks, walking paths and water access.
"We'd like to move City Hall to a new location so we can maximize the current location for commercial development," Lane said. "We need to maximize the public's investment."
In July, the commission approved a purchase contract with a developer for another piece of city-owned property, located at Sixth Street (U.S. Business 98) and Mulberry Avenue. Wilwat Properties Inc., a developer specializing in Publix shopping centers, is working with the popular supermarket company to bring a store to the 3.5-acre site.
Hank Burney, a real estate consultant working with the city and Wilwat, said the developer had looked at another parcel in town but was hoping to find something close to City Hall.
"We found this parcel and thought we'd give it a shot," he said.
For Burney, it makes no difference if a parcel is owned by a municipality or a private entity.
"Some owners are hard to deal with and some are easy to deal with," he said. "Panama City has been just fine."
Paul Borden, president and CEO of HomeFed Corporation, the developer negotiating with the city on the marina project, had a similar opinion of working with municipalities on development projects.
"Every jurisdiction is different, and it depends on the opportunity," he said.
Attitudes seem to be a critical component for success in this process. Lane said making a conscious decision to turn the Planning Department into the Planning and Economic Development Department indicates the city is ready and willing to make things happen. And people are starting to catch on. There's a developer from West Palm Beach who visits about once a month to look around, said Lane. Nothing has caught his eye yet, but he keeps coming back.
So what's the magic ingredient for turning Panama City into a developer's paradise and center of economic growth? Lane and Hardin agreed — it's time.
"This is a marathon, not a sprint," said Hardin. "It's not going to happen overnight."
---
Sandi Poreda, APR is a Florida native and a small-business owner. Her communications firm, Bulldog Strategy Group, specializes in storytelling.