Ensuring Equal Opportunity
Federal regulators have expanded the disabilities that require accommodation by employers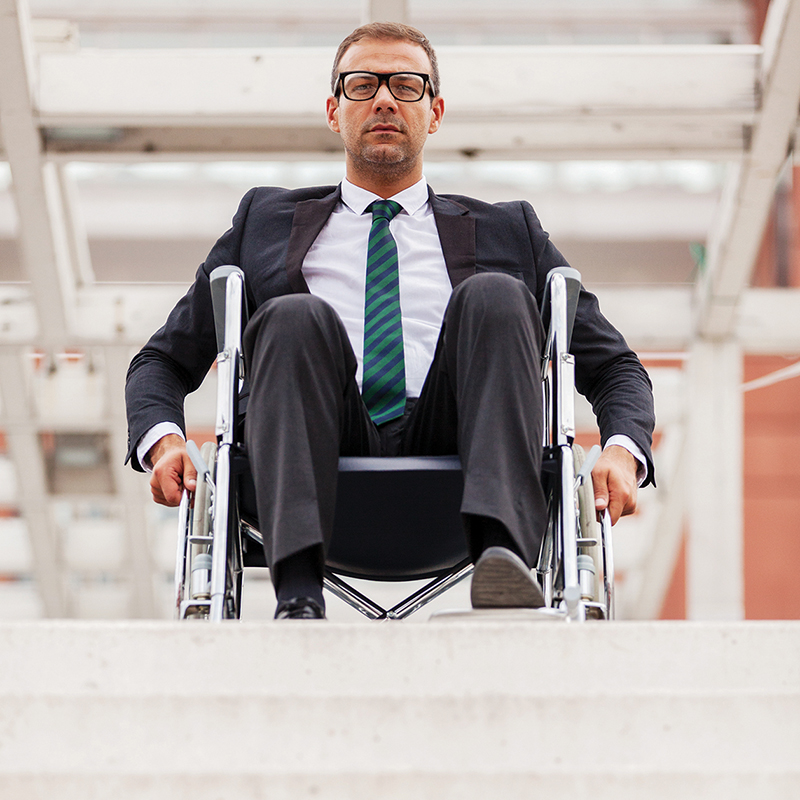 In today's world of political correctness, using the word "disabled" to describe an incapacity is almost cringe-worthy. It's a term that feels inflexible, stark.
It's also a term that could cause business owners to misstep when creating their policies for how to treat employees who have potential claims under the Americans with Disabilities Act (ADA).
The ADA was signed into law in 1990 by President George H.W. Bush, ensuring equal opportunities for people with disabilities. But what does that really mean? How do you determine, as a business owner, whether opportunities are equal? How should you define a disability?
This last question is one R. Scott Callen spends a lot of time helping his clients understand. Callen is a labor and employment attorney with Liles, Gavin, George, Carlisle, Lee & Callen, P.A., and he also serves the Tallahassee-based Big Bend Society for Human Resource Management as the organization's director of governmental and legislative affairs. Both positions mean he spends a lot of time thinking about, talking about and explaining the ADA.
"There's a general misunderstanding that a disability is a major impairment; for example, someone who needs a wheelchair or who has some serious and permanent impairment," Callen said. "But essentially, any medical condition that isn't brief in its duration could be a disability. And so employers are often most confused about the terminology."
Callen encourages his clients to get away from the constructs of the terminology and to think of the ADA as a process that protects employees with medical conditions. One reason for this critical distinction is a recent set of federal regulations issued by the Equal Employment Opportunity Commission stating that "an impairment that is episodic or in remission is a disability if it would substantially limit a major life activity when active."
An example, according to the Civil Rights Division of the U.S. Department of Justice, would be someone with diabetes who may need regularly scheduled breaks during the workday to eat properly and monitor blood sugar and insulin levels. Even if the employee's diabetes doesn't prevent him or her from working or even substantially modify the employee's capabilities, they still may be able to file a claim under the ADA if they are not permitted reasonable accommodation (the breaks to eat and monitor blood sugar levels).
What's Reasonable?
So what, then, is considered to be reasonable accommodation? Callen said there are two basic questions employers should ask themselves to make sure they're on the right side of the law:
1. First, determine whether the employee can perform the essential functions of his or her position with or without a reasonable accommodation. In essence, can you make a temporary change to accommodate the employee's needs? This might mean setting a temporarily, flexible schedule so a cancer patient in remission can make his or her doctor's appointments.
2. Second, employers need to contemplate at what point the reasonable accommodations could eventually become unreasonable. For example, if your employee is the only person on staff who can accomplish a critical task for your business and he or she won't be available to perform this task for six months, that may cause an undue hardship for your business. If your employee is abusing the attendance policies and is out of time off, or if there are limited resources to complete a job, you may be in a good position to argue the accommodation is unreasonable.
Callen noted that employers should make a good-faith effort, but they also don't have to say yes to every request. There's no bright line for what is reasonable vs. unreasonable; each situation is different based on the size of the business, timing, job responsibilities and a host of other factors. But it's important for employers to at least try to engage — it builds a better foundation if an employer has to defend his or her position.
So what's the best advice for employers trying to do the right thing?
First, start off on the right foot by incorporating a clear ADA policy into the employee handbook and making sure all supervisors are trained on the ADA. Just remember, federal law will trump the handbook, so make sure they don't conflict or that you're not too inflexible.
Second, don't rule someone out for a job prematurely. Connie Crowley, the human resources manager for North Florida company CW. Roberts Contracting Inc., said a person with a disability should not be considered unqualified for a position if he or she is able to perform the job's essential functions, with or without reasonable accommodation. Essential functions could include anything from being able to lift a certain amount of weight in a warehouse to being able to work at any time during the day.
Third, document everything. Start at the beginning, from the initial request for accommodation. Keep track of any subsequent requests or updates so if you need a record of your responses, you'll have the information you need instead of trying to work backward once a claim has been filed.
Do the Right Thing
Callen said the focus of the ADA has shifted from trying to determine whether an employee actually has a disability to working out how much an employer needs to accommodate the condition.
But employers shouldn't let worry about the regulations and compliance consume them. Even though there isn't a one-size-fits-all solution for guaranteed adherence with the ADA, there's a simple formula.
"In the real world, the litmus test is that you should presume that your employee might have a claim, unless you're dealing with something really obvious like a cold or the flu," he said. "If you presume as much, you can start taking steps to address the situation."
When in doubt, he said, employers should base their decisions on how they can take care of their employees, and always appreciate the human element.