Cooking with Art Smith
Celebrity chef opens culinary school in Madison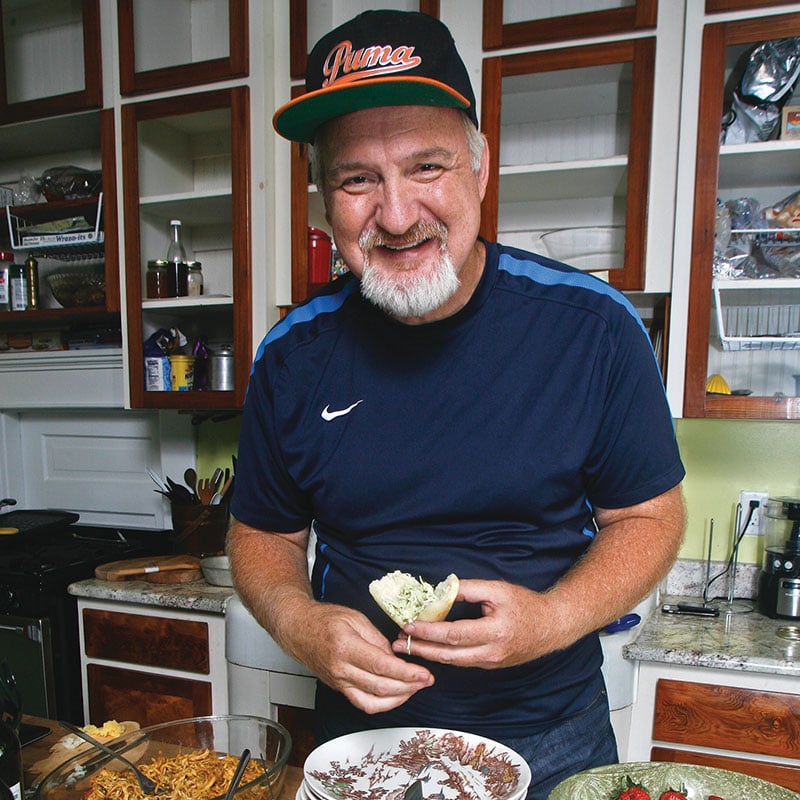 Chef Charles Arthur "Art" Smith has cooked for President Barack Obama, Oprah Winfrey and former Florida governors Bob Graham and Jeb Bush, among other VIPs, and he regularly kibitzes with stars and appears on television. That's what one first hears about Smith.
Closely following is that he is an author, entrepreneur and restaurateur, with successful Southern-themed restaurants in key cities across Florida and several other states.
Lastly — and less known perhaps — is that he is a visionary, humanitarian and veritable Southern boy, with deep Florida roots and ideas of making a difference in the world, or at least of leaving a lasting impression on his small hometown of Jasper and the surrounding area.
A sixth-generation Floridian and Hamilton County native who started his cooking career at North Florida Community College (NFCC) in Madison and developed it at Florida State University before going on to earn fame and acclaim as a chef, Smith returned to Jasper in 2015, determined to spark an economic turnaround in the small hometown he couldn't wait to escape as a child. He is in fact working with the Hamilton County Development Authority to convert a former jai alai building in Jasper into a commercial bakery that he sees as one day producing cakes and other baked goods for national distribution — a jobs-creating venture that he is pursuing with help from Walt Disney World executives and other influential and well-heeled individuals. Yet for all his impressive achievements, world travels and famous acquaintances, the 56-year-old Smith comes across as quite personable, down-to-earth and even down-home, if irrepressible and bubbling with ideas and enthusiasm.
It's a Friday morning in August, and Smith takes time from dealing with the construction crew renovating the 1860-built antebellum Wardlaw-Smith Mansion in Madison to talk. The renovation is in preparation for the mansion's imminent opening as a culinary school that Smith envisions producing chefs and bakers for the Jasper bakery and others of his many enterprises.
The school, Smith explains, is actually under the auspices of Reunion, a nonprofit organization he founded that aims to foster the renewal, restoration and rebirth of communities through educational programming. As Smith describes it, the school will offer two online programs, making them easily affordable and accessible to everyone. Equally important, he says, the virtual nature of the classes will allow for his and other experts' participation, no matter their whereabouts or schedules. His role, aside from teaching, will be that of ringmaster, Smith says.
"It's the kind of thing I do well because I can get people engaged," he says.
One initiative, the Florida Garden to Kitchen School program, will consist of online lectures and food preparations by Smith and other chefs, the focus on growing and preparing one's own food, preferably Florida-grown products.
"I'm not interested in teaching students how to use their knives; they should know how to use their knives when they come to me," Smith says. "What I'm interested in is teaching them a more holistic way — about where food comes from and what goes into growing and preparing it."
The second and complementary program, Conversations from Reunion, Smith likens to TED Talks. This will involve experts from different fields talking on such topics as the weather, water conservation, Florida's algae problem and organic farming, and how these relate to food.
"I think these conversations can really bring people awareness," Smith says.
Smith is big on conversations, which he believes can not only educate, enlighten and motivate people but also initiate new ways of thinking, modify behavior and ultimately lead to cultural and social progress.
"I love the idea of conversations," he says. "I've gotten more out of a lecture than weeks of classes. What conversations do is start other conversations. I love to support local businesses, for example. There again, you're creating a conversation. You're showing people the importance of being supportive of the local community; it's as simple as that. When I came here and started working on this house, it started a conversation about Oprah's personal chef. It's all about engagement."
Smith brims with ideas and plans for the mansion, which he wants to convert into a vibrant, functioning part of the community, not a museum piece. Besides the culinary school, he envisions having a backyard cafe, a library of great Southern literature, a technology incubator, an art exhibition room, and space for dinners and fundraising events. He even plans on having free-range chickens and an apiary in the backyard, to complement the herb/vegetable garden out front.
The ever-present challenge, however, is finding the time to do these things, given his extremely busy schedule. That schedule entails about two weeks of travel each month, as he goes about the country opening and monitoring restaurants, taping television shows, doing book signings and fulfilling numerous other charity and business-related obligations.
Sometimes, Smith expresses a sense of wonder about his own doings.
"We're opening a new place in New York City," he says. "It's going to be a Southern fried chicken place right in Grand Central Station. Who would have thought a kid from North Florida would be opening in the world's busiest train station?"
His reason for the school in Madison, aside from the mansion's availability, had to do with his attachment to the community.
"This is where it all started," Smith says, recalling his student days at NFCC, where he started cooking.
He plans to limit the culinary school to 10 students at a time.
"I don't want more than 10 because I want 10 prospective employees," Smith says. "It's not about quantity, it's about quality."
The classes will have no age limits, entry exams or tests per se. The only prerequisites are passion and self-motivation.
"It's not about passing, it's about whether they pass muster in terms of having enough chutzpah, enough passion, to want to do it," Smith says.
The regime will entail working in the kitchen, the garden and even on a farm.
"It will be from the ground up," Smith says. "When you work in a restaurant, you start by washing dishes. They need to know what it is to work and pay your dues.
"This is what's going to happen," he continues. "If they want it bad enough, they're going to show up here after watching the lectures and conversations and say, 'I want to be a bigger part of it.' Because the ultimate goal is for me to recognize them and for them to become part of my apprenticeship. I will then work more individually with them and put them in restaurants."
Indeed, mentoring chefs is something Smith has done as a U.S. State Department chef diplomat, bringing students here from abroad, training them and finding them cooking jobs.
He therefore doesn't doubt his ability to make the school successful.
"If I can open restaurants, write cookbooks, why can't I open an educational program that many will want to be a part of?" Smith asks.
He underscores the point by citing Common Thread, a nonprofit organization he founded in 2003 with philanthropist Charles Annenberg Weingarten that teaches low-income children how to cook healthy, affordable meals and emphasizes diversity and cultural tolerance.
"If we can do that, we can do this," Smith says.