Bay County's Airport is Breaking Passenger Records
Taking Flight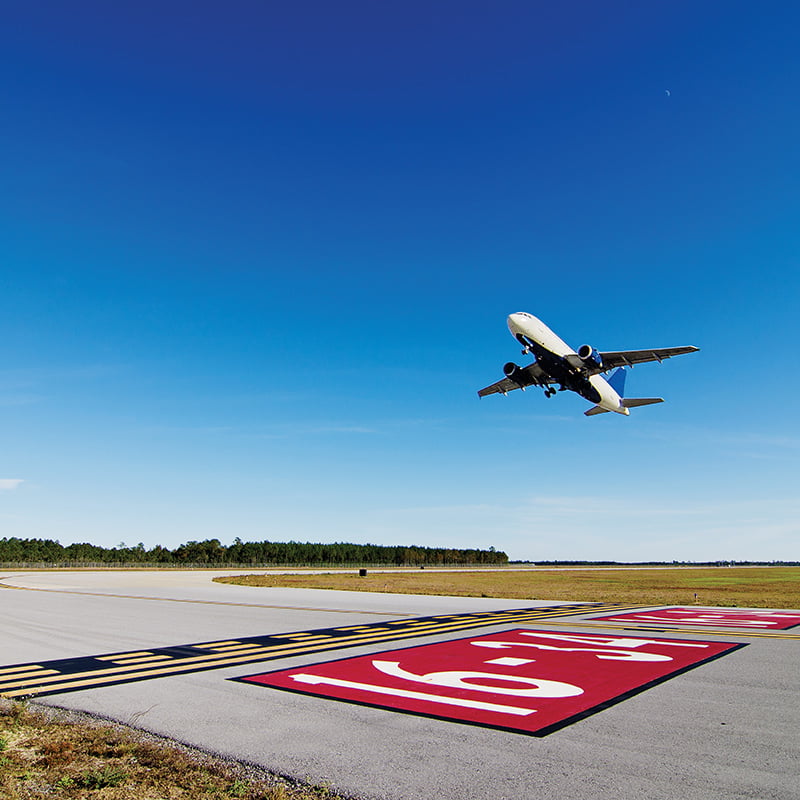 Northwest Florida Beaches International Airport turned 5 years old this spring. And it's been a healthy first five years.
From a controversial start, the sprawling complex in western Bay County has grown into the second busiest airport in the Florida Panhandle and more than doubled the number of passengers that flew through the old Panama City airport.
The airport, known by its FAA code ECP, had one of its busiest months ever in July, serving nearly 100,000 passengers. Now, the airport is gearing up for future expansions that include adding a new runway, building new connector roads and remodeling parts of the terminal, such as the restaurants.
"The vision that people had years ago when they developed this airport, that vision is coming to fruition, and the success is being seen across the board," said Parker McClellan, executive director of Northwest Florida Beaches International Airport.
Getting Off to a Rough Start
Replacing the old Panama City airport (PFN) with a brand new airport in environmentally sensitive West Bay was not a popular idea at first. Voters shot it down in a non-binding referendum, and the National Resources Defense Council and other environmental groups filed suit to halt the project.
But the new airport had strong state and local political support, and was backed by the weight of The St. Joe Company, which had plans to develop the land around the airport and was willing to donate a piece of West Bay for the site. Construction was inevitable.
It did not go smoothly, as contractor Phoenix Construction struggled with laying sod and building sufficient stormwater drainage in swampy West Bay, leading to delays, cost overruns and environmental fines. Phoenix owner James Finch sued the airport over withheld payments and the airport countersued. In 2012, they settled and paired up in a suit against Kellogg Brown and Root, the project managers.
Final cost for the construction: about $325 million, according to McClellan.
Northwest Florida Beaches International Airport was completed and opened in May 2010.
It was not an opportune time. The economy was still finding its feet again — and in late April of that year, the Deepwater Horizon oil rig had exploded, spilling millions of barrels of oil into the Gulf of Mexico, where it began fouling beaches in Florida, Alabama and Mississippi. Panama City Beach was not affected, but people still stayed away.
Shortly after the opening, The Associated Press quoted then-St. Joe CEO Britton Greene: "Could the timing be any worse? The timing for a disaster like this is never good. This is an interruption that no one would have wanted, but this will end."
As it turned out, he was right.
Five Years of Growth
The economy strengthened, the beaches recovered and fliers began, well, flocking to the new Northwest Florida Beaches International Airport.
The old Panama City airport had served a little more than 312,000 passengers in 2009, its last year of operation. The new airport doubled that number and then some — 839,000 passengers passed through the new facility in its first year, according to the U.S. Department of Transportation.
Four airlines now serve ECP: Delta, United, Southwest and Silver Air. Of those, Delta and Southwest fly a little more than 90 percent of the passengers; the rest travel on United and Silver.
The vast majority of passengers fly to Atlanta, which is a hub for both Southwest and Delta. Nashville is a distant second, followed by Houston and Baltimore, according to the U.S. DOT's statistics.
McClellan said Southwest added non-stop service to Dallas' Love Field this year. There also are seasonal routes to St. Louis between March and August. And flights now go to both airports in Houston — Hobby and George Bush Intercontinental — as well as Orlando and Tampa.
While ECP technically is an international airport, "there are no direct international flights," McClellan said.
Federal transportation numbers put the airport's on-time average at about 85 percent for departures and 80 percent for arrivals, similar to most other airports. The average flight delay for departure is one hour, and a little less than an hour for arrivals. McClellan said tourists make up a significant portion of the airport's passengers, while the airport also gets its "fair share of military and government."
July of 2015, five years after opening, was the busiest month ever for Northwest Florida Beaches International Airport. A combined total of nearly 100,000 passengers arrived and departed on flights there.
Money in the Bank
Panama City Beach Mayor Gayle Oberst said the airport has had a significant impact on local tourism. She said the revenues from the city's 1-cent sales tax have increased from 12 percent to 13 percent each of the past two years, much of it from tourists, and she credits the airport with helping bring them to Panama City Beach.
"We're really excited that the airport's doing as well as it is," Oberst said. "We've got lots of flights going out every day and coming in. Our economy is doing well."
The Bay County Tourist Development Council has seen similar increases in the 5 percent bed tax levied on motels and other short-term accommodations. At the end of fiscal year 2014, the tax had generated $16.7 million, nearly a 6 percent increase over the previous year. By mid-summer, this year looked on-track to post even larger gains.
Oberst said having a large, modern airport also is a selling point for retirees who move to the area.
"The idea that the airport is 15 minutes away and that they can get flights in and out makes a tremendous difference," she said.
Top 10 Destination Airports from NWFL Beaches International Airport (U.S. Only)
Looking Ahead
Last year, the airport's board of directors approved a master plan covering expansion of the airport over the next 20 years. The projected cost is about $33.6 million.
McClelland said the plan includes, in phases, adding a 7,500-foot crosswind runway big enough to accommodate most planes that use the airport, as well as a possible connector road linking the airport and State Road 20. He said the plan also calls for terminal improvements such as remodeling the two restaurant/bars to have a more local flavor. One will have a 30A aesthetic, while the other will become the Emerald Coast Pub.
Meanwhile, the airport authority is working on the next step in developing the facility — bringing aviation repair and maintenance, shipping and other non-aviation businesses in to build on the property surrounding the airport, including the adjacent Venture Crossings industrial park.
And Sheltair, the airport's fixed-base operator, markets the executive terminal and nearly 1,700 square feet of office space to businesses and aircraft owners.
So far, it's been slow going as businesses have taken a wait-and-see position with the new airport.
But "we have more and more people calling every day as compared to five years ago," McClellan said. "As the economy improves, so do the opportunities for this airport to grow."